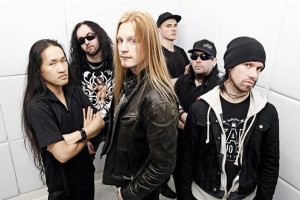 English power metal group DragonForce's newest album, "The Power Within," will not disappoint longtime fans.
Formed in 1999 by friends Herman Li (guitar) and Sam Totman (guitar), under the name DragonHeart, the band has explored a wide variety of fantasy and video game themes. In 2002, after finding a Brazilian band with the same name and in the same genre, they changed their name to DragonForce, but continued the same themes.
The band first got attention, in the U.S. when it was announced that their song "Through the Fire and the Flames" would be the final track in the popular video game "Guitar Hero III: Legends of Rock" in 2007.
Now armed with a new singer and great creative minds, DragonForce starts a new chapter of its history, sounding more symphonic than before.
The album contains songs that are shorter than most previous DragonForce releases, but they are still longer than the average song today. The longest track, "Wings of Liberty," is almost seven-and-a-half minutes long. While this may seem long to most music fans, on 2004's "Sonic Firestorm," the longest song is almost ten minutes.
"The Power Within" has the complex guitar tones that everyone has come to know DragonForce for. One member that improved immensely since the last album is drummer Dave Mackintosh. With a double-kick pedal he is able to produce a quicker beat. This makes the dueling lead-guitar riffs sound even faster than they actually are.
DragonForce begins to step out of their norm with "Wings of Liberty" and "Seasons." Although they still dabble with fantasy themes, since the departure of the lead singer, the songs have become more about tangible subjects rather than mythological battles. The album feels like it takes longer than 50 minutes to play through, causing exhaustion to the intent listener. This was apparent on the previous record, but is even more present now.
"The Power Within" is a great addition to even casual DragonForce fans' libraries. However, anyone that has not listened to them, even casually, should stick with the single "Cry Thunder."