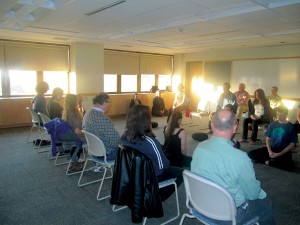 Zen meditation helps Oswego State students relieve stress during crunch time as the end of the 2012 spring semester approaches.
Zen meditation class, held every Thursday evening in Campus Center room 205, is an alternative way to help students relieve stress. The classes are sponsored by the Lifestyles Center and the Counseling Services center. Sam Gordon, from the Zen center of Syracuse, is the instructor who leads participants to find their inner peace and relaxation.
The practice of Zen meditation involves sitting, maintaining posture and most importantly, breathing correctly. Gordon helps participants learn more about Zen Buddhism, which originated in India then migrated to China and eventually into Japan.
"When people usually think about meditation, they picture monks with shaved heads, said Ted Winkworth, the AOD Coordinator at the Lifestyles Center. "Instead, Zen meditation introduces people to a style where they interact with a world they are not used to."
The first Zen meditation class at Oswego State took place during the Fall 2011 semester when the counseling services center brought Shinge Roshi Roko Sherry Chayat to present some techniques for meditation to the campus community. After a successful turnout, Zen meditation became an additional weekly program for the spring semester.
"During the sittings, I teach people the basic practice of meditation," Gordon said. "People are constantly bombarded with stress, expectations, emotions and most times we are aware of stress but not aware of how much it affects us."
According to the Zen Center of Syracuse website, "Zen is not a belief system to which one converts; rather, it is an age-old practice of mindfulness through which we cultivate inner peace, so that we can respond intuitively and directly in any circumstances."
Rate of attendance for Zen meditation sittings gradually increased during each session.
"Initially, we expected 10 people for the sessions; instead we received 40-50 students who keep coming back, which is really exciting," Winkworth said. "Lifestyles do a lot for the campus community. Zen meditation is one of the many programs that we do to help students find the happiness, healthiest way to live a lifestyle."
Posture and breathing are important aspects within the Zen sittings. Gordon mentioned that practicing sitting is about building awareness and cultivating mindfulness. How we go about our daily lives is important.
"Are we a prisoner to our daily lives?" Gordon said. "Practice is a tool and is used as a way of becoming aware of how things affect us."
"Each moment is a gift for students to take away from the Zen class," Gordon said.