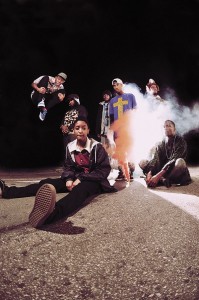 Discretion advised: the use of the Parental Advisory sticker on an album has never been more useful than it has been with alternative hip-hop group Odd Future. The young, rebellious group from Los Angeles gained underground hype in the late 2000s, but began their journey to national recognition after an appearance on "Late Night with Jimmy Fallon" early last year. Since then, group members have released albums through major record labels, made their own record label, made their own show on "Adult Swim" and had multiple tours around the world with their shock-value subject matter.
"The Odd Future Tape Vol. 2," a sequel to "The Odd Future Tape," is no exception; especially listening to "Hi," the album's appropriately titled intro skit that may very well be a warning of what's to come. Looking at the track list, there are three songs with a certain not-so-nice five letter word associated with females. One of those songs, "We Got Bitches," is called ignorant in the song itself, but stripped down, it may be a commentary piece on the materialistic aspect of hip-hop, where the chorus repeatedly belts out "we got diamonds" and "we got cars."
"NY (Ned Flander)" and "Rella" are the album's first and second singles that have videos accompanying them, which would leave a conservative to pull the plug on their television, but contains some humorous social commentary with good punch lines and metaphors.
The more R&B-styled songs include "Ya Know" and "Analog 2." The latter is a highlight on the album holds a cool, trippy beat that reflects feelings of love, sex or whatever you take away from this double entendre-filled song. "Analog 2" also features Frank Ocean, who has found success himself with two credits on Kanye West and Jay-Z's "Watch the Throne" album last year. He proves those appearances worthy in "White," a beautifully smooth hit that touches upon the meaning of life and the after-life, specifically heaven, which is interesting as most of the group members are atheists.
While they are not yet a household name, Odd Future has come up fast. They're selling out venues all over the world and ultimately dealing with what comes with the fame. How they deal with it is reflected in "Sam (Is Dead)," where leader Tyler, The Creator, plays as a trumpet boy, describing himself as wanting to "just play."
The album closes out with the 10-minute cypher, featuring just about all of the members of the group rapping one after another. It also features the return of Earl Sweatshirt, a member who the underground rap circuit hailed as the next big thing and shows why by incorporating complex rhyme structure with ease.
Despite any criticisms about how foolish or crazy critics might think they are, and despite all the controversy of any misogynistic, atheist influence, Odd Future's message in this album seems to deliver an infinitely invaluable message that resonates with all groups around the world: life is about keeping your true friends, being happy, having fun and not caring about the negative things people say about you.