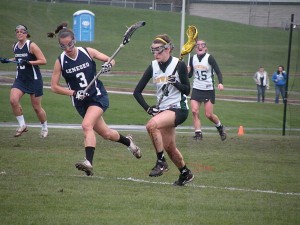 The 2012 Oswego State women's lacrosse team looks to improve on its 8-6 record from the previous season. This season, the team has a 1-1 record, with its first home and conference game to be played against SUNY Cortland Saturday at 11 a.m. The team has already had a bit of success this season, with senior Rachael Raffa winning Athlete of the Week this past week. She scored seven goals in a 16-11 win against Morrisville State.
A loss to SUNY Geneseo caused the women's team to barely miss taking a trip to the SUNYAC playoffs last season. Going to the SUNYAC playoffs is one of the team's goals for this year. Having a better conference record is also a goal the team looks to achieve.
Last season, Raffa led the team with 42 goals and 19 assists. She finished the season with 61 points, which made her seventh on the all-time Oswego State points list.
One of the four captains, senior Erin Cummings, was second on the team with 27 goals and 14 assists for a total of 41 points. Another captain, senior goalie Nicole Nalle, led the team in goals against average, with an average of 12.35. She also moved into the ninth spot on the Oswego State's all-time saves list.
During the 2011 season, one of the goals was to beat more conference opponents, which the Lakers did achieve, winning three. They beat SUNY Potsdam and SUNY Oneonta, two teams they had not beaten the previous season. The team hopes to capitalize on that success and beat even more conference teams this season.
Possible challenges for the team include injuries the players may have. The team would then have to change its game with different players and strategies. The Lakers also have a lot of games in a short period of time, so they have to make sure that everyone understands what each player has to do to perform at the highest level.
Since some weeks the team has more games than practices, it is difficult to go over mistakes made in previous games.
On the team, there are seven new players who aim to help the team even more.
"They all have skills that can be beneficial to helping us on the field," said junior Ashlee Engel, one of the captains. "They each bring different qualities that contribute to the team."
Another captain, senior Liz Conrad, said that the new players push the returners to work even harder.
"Their work ethic and desire to play has pushed the upperclassmen to work just as hard," she said.
In the offseason, the women worked hard and stepped up to improve on their game to make this season even more successful than the previous season.
"The effort made at practice has greatly improved since last year and so has our mindset," Conrad said. "We all want to win and are on the same page."
The team believes that this season will be different than last season.
"There is a stronger drive to win," Engel said. "Everyone has picked up certain role on the team and are striving towards them."
She also said the players have high expectations for themselves and they are pushing each other to reach their potential.
"This team is very talented and if we are all clicking on the field we should have no problem reaching our goals," Conrad said.
Conrad also said she thinks the team has the ability to win even more games in the conference than it did the year before.
For this season, fourth-year head coach Brandi Lusk hopes to improve upon the success of last year's team.
"We had a winning record and a ton of improvements from seasons in the past," Lusk said. "I am hoping that a major difference in this season from last season is in our post season conference tournament."
To be successful, Lusk said the team talks about the little things and making efforts during the games.
"We have to work as hard if not harder than our opponents and we need to make practices more competitive," Lusk said. "We need to make sure that for every game we show up and are ready to play until the final clock says zero."
"Every player should walk off the field knowing that they did everything that they could for us to succeed," she said. "And if the majority of the team can do that then we will be successful"
Lusk said she believes her team has the ability to do great things in this 2012 season.
"This team has a ton of potential and when they play to their potential they are unstoppable and they make it an exciting game to watch," Lusk said.