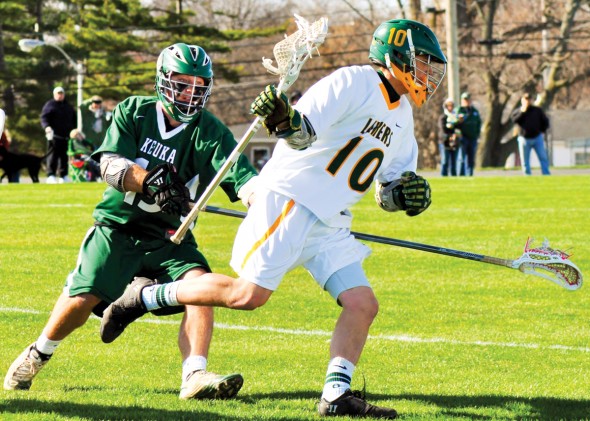 The Oswego State men's lacrosse team improved its record to 7-0 Tuesday afternoon in a hard fought 11-7 victory over Keuka College. The game was tied 7-7 going into the fourth period, but the Lakers scored four unanswered goals to close out the game.
"Obviously anyone would like a great 7-0 start but we are keeping a level head and looking forward to SUNYAC teams, that is what really matters to us," senior goalie Ian O'Brien said. "Each game is a playoff game and we are excited for our next test against Brockport on Friday."
"What it came down to was our team sticking together and just being resilient," sophomore Chris Porter said. "We have been taking teams one game at a time and will continue regardless of the outcomes. We respect everyone but fear no one."
The Lakers started off hot and looked like they might run up the score early, with junior Chad Smith driving through the defense en route to scoring his fourth and fifth goals of the season, both in a two-minute span. Porten scored a third goal to put the Lakers up 3-0 early in the contest. Keuka did not score until there were three minutes left in the first period, but the Storm put up two quick goals to cut the lead to one to end the first period.
"I felt in the first half, our three quick goals to start the game caused us to lose our intensity and drive to play tough, hardnosed Oswego State Laker lacrosse," O'Brien said.
Senior Britt Leone opened up the scoring in the second period with an unassisted goal, which put the Lakers up 4-2, but Keuka's Anthony Luppino scored less than 10 seconds later to cut the lead back to one. Freshman Matt Palmer scored to bring it back to a two-goal lead, but Luppino and Gino Marcello poured in two unanswered goals to tie the game going into the half.
The third period was tight defensively, as Keuka and the Lakers continued to battle back and forth. Britt scored the first goal of the period to put the Lakers up 6-5, but Marcello responded with a goal of his own not long after. The Storm got their first lead of the game on a goal by Derek Pfeiffer to put Keuka up 7-6, but Porten scored his 15th goal of the season shortly after on a pass from Cody Hoose to knot up the game going into the fourth period.
"We did a better job executing our offense in the fourth quarter for the most part," head coach Ryan Martin said. "Ian O'Brien came up with some big saves, and our defense did a nice job on grounds balls and executing the clear."
Palmer gave the Lakers the lead again early in the fourth on a pass from Connor Khammar, and Oswego State did not look back from there. Hoose then assisted junior Connor Brown on a goal, scored a goal of his own, and assisted Palmer on the final score of the game, putting the Lakers up 11-7, and holding Kueka to zero goals in the fourth period. O'Brien recorded 11 saves in the victory, many of them during the fourth period.
"The undefeated season feels great," Porten said. "It's what we have been working towards since day one of fall ball. As a team, we know that yes it's a great season thus far, but we won't let this get in our way of moving forward."
The Lakers have already surpassed their win total from last year as they come to the half way point of this season. The seven-game winning streak is the second longest in Oswego State history, and trails only the 1997 and 2000 teams, who each had nine-game win streaks. Both of those teams went on to win 12 games in those seasons.
Keuka's Scott Thielman played strong in the first half allowing five goals on seven saves, but was replaced by Eric Satrelli, who allowed six goals and came up with the loss. Keuka, who dropped to 2-3 with the loss, played an extremely tight game up until the decisive fourth quarter.
"Keuka did stay with us for the first three periods but this was because first my individual play was poor," O'Brien said. "I didn't feel I played my best. In the fourth, we made some defensive stops, cleared the ball well, and the offense did their job capitalizing on their opportunities playing smart, Oswego State lacrosse. We found a way to win as a team and now we are looking forward to the next two days to prepare for Brockport."
"It feels good starting off 7-0, however, that first half of the season is behind us," Martin said.  "We are now into SUNYAC play.  All we are concerned with is Brockport on Friday."
The Lakers begin conference play at home against The College at Brockport (4-5) this Friday, March 30, at 4 p.m.