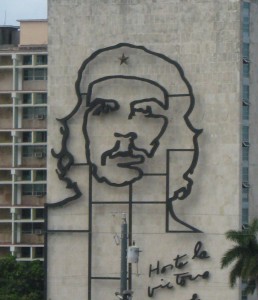 In case you missed it, either because you don't read my articles or you're not friends with me on Facebook, I made it back safely from Cuba! Let me catch you up to speed. I went to Cuba for spring break with the GLS 100/POL 300 course to Havana and it was amazing. Kind of makes your vacation to your house seem a little lame doesn't it?
I first wrote about this trip at the beginning of the semester to answer the question I had been hearing for months: why? Why was I going to Cuba? Now, since I've come back tanner and more cultured than ever before, I've had other questions, plenty of them. Thankfully they're much more interesting and complex. I would like to address them now.
"How was Cuba?" Awesome.
"Did you make it out okay?" Obviously, I'm standing right in front of you. The trouble's not getting out of Cuba, they don't care, it's the U.S. that cares and yes they let me back in.
"Did you smoke a cigar?" Despite my asthma, yes I took a couple of puffs. Only Cohibas though, those are the ones Fidel smokes. I'm classy like that.
"Did you bring me back a cigar?" No, I most certainly did not. I didn't want to be detained by customs and why would I buy you a cigar anyway?
"Was it what you expected?" This question is where we start getting complex. To be completely honest I didn't have many expectations for what Cuba would be like. I did my readings in class and we had a lot of discussions but I don't think it really hit me that we were going to Cuba until we were there.
Yes there are the old cars and the buildings that are so beautifully falling into decay but there's so much more to Havana and Cuba than that. First off there are Italian restaurants everywhere. I've never eaten so much pizza in my life. Second, there are new cars there too. Not a whole lot, but they're there. Third, there were way more Americans there than I ever expected. On our flight we had students from three other colleges going on week programs too. Then we met a group on a religious trip from New Jersey, and a group of lawyers at Museo Giron, the Cuban museum for the Bay of Pigs. Fourth, there are live bands ready to serenade you at every turn, which means there is salsa dancing everywhere. I salsa danced on the patio of the Hotel Nacional, in an Italian restaurant in Santa Clara, in the Atlantic Ocean and finally the Havana airport. It was pretty fantastic.
"Is it really different?" Yes and no. Yes in that there aren't really any chain corporations besides the Cuban government, obviously. Also, the only advertisements that you see around are for social and government programs, not commercial goods.
No in that despite being a communist nation, they still have capitalism down. There are plenty of stores in Havana more than willing to sell tourists overpriced trinkets or scam you into buying an ice cream cone for about $10 when it actually only costs about 40 cents.
"What did the people do when they realized you were American?" Mostly they were shocked. I'm sure they probably thought that we were Canadian but when we said we were from New York people got really excited like we were exotic or something. Everyone I met was friendly and curious as to how we got there and how we liked Cuba.
"Was Fidel everywhere?" No, actually he wasn't. There were a thousand times more pictures of Ché Guevara. He was on tons of t-shirts, hats, cigar boxes, pint glasses, street graffiti, you name it, Ché was on it.
"So, like, are you a communist now?" No, I'm not a communist and if you thought I was before, nothing I say here will change your mind so I won't even bother. For the rest of you, find a way to get to Cuba. I promise it will change your life.