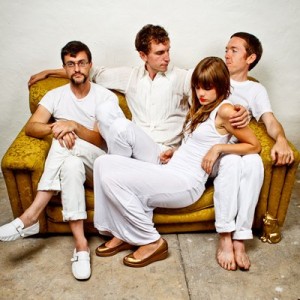 The Oswego Indie Series is holding its second concert for the Spring 2012 semester. Headlining the Sunday show is Lost Lander, a new music project that just released its debut album "DRRT." Also performing is The Scarlet Ending, who took the stage with William Fitzsimmons at the March 2011 Indie Series concert. Under the stage name Cu-Cu, Miles George of Rochester, is opening for both groups.
Founded by singer/songwriter Matt Sheehy, Lost Lander is a band based in Portland, Ore., consisting of five members. The group has a very unique sound, fusing folk and acoustic music with pop elements. The band was formed when Sheehy released a 2008 single, "Tigerphobia." Their songs have a very natural feel; when fused with pop, makes it enjoyable for all music enthusiasts. Lost Lander's album "DRRT" synchronizes so many elements into the music that its product is an entirely new instrumental sound. Expect to hear amazing melodies that change their music industry landscape.
The Scarlet Ending, a Syracuse-based band, is performing for their second time on the Oswego State stage. Loosely defined as indie rock, the six-piece band stretches that term to its confines. The band's 2010 album "Ghosts" showcases the group's musical prowess and meshes all of their talents into a gorgeous sound. Their other recordings "Cries and Whispers" and "The Scarlet Ending" also boast an impressive lineup of tracks.
The group won a Syracuse Area Music Award for Best Pop Record of 2005, and was featured on MTV and VH1. The Scarlet Ending put on a great show at Oswego State before, and will not disappoint with their superb musical abilities.
Cu-Cu will open the show for the Sunday concert. Cu-Cu released five full-fledged albums from 2006 to 2011, and it does not look like he will stop making music anytime soon. Cu-Cu is well known for his integration of electronic-pop and folk-rock. Cu-Cu has a free album online titled "Young Bloody," that showcases his music style. As a graduate of Oswego State, George's homecoming will fill the air with music.
The Indie Series will bring life into the Oswego State campus music scene. All the performers bring a fresh sound to the table and hope to gain a new fan base. The concert will be held in Hewitt Union Ballroom, starting at 5 p.m. Students can purchase tickets for $3 at the Campus Center Box Office.