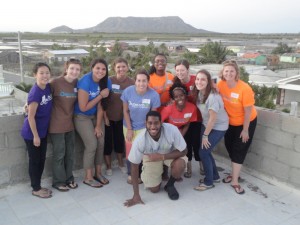 While other students spent their spring break partying it up in resort destinations, some Oswego State students used their time to volunteer internationally and locations across America.
Alternative spring break, a program administered through the Center for Service Learning and Community Service located in the Compass, facilitated Oswego State students' volunteering in Bridgeton, N.J., Florence, Ala., Waterloo, Iowa., Pittsboro, N.C., New Orleans, La., and Monte Cristi, Dominican Republic.
Renee Karikari, a senior majoring in human development, participated in the trip to the Dominican Republic this past spring break, teaching English to talented children who lack the opportunities to have English in their curriculum.
"I decided to go because I love to travel and was interested in learning more about their culture," Karikari said. "I also love to work with children and knew it would be an amazing opportunity."
Throughout the week, students were given various duties and responsibilities that serve the local population; however, they still make time for sightseeing. Karikari mentioned that witnessing the Dajabón, a market located within the border of Haiti and the Dominican Republic was one memory that stood out to her.
"Getting to see these two beautiful countries share a common market and work together to provide good for one another was priceless," Karikari said.
In general, the goals of alternative breaks are to get students involved in the community and to have them experience volunteerism, said Alyssa Amyotte, coordinator of service learning and community service. Ayonette is the liaison for students who want to participate in alternative breaks. Having participated in four years of alternative breaks herself while attending SUNY Plattsburgh as an undergraduate, Amyotte said it was her favorite program and gave her the best experience.
"Going on alternative break trips really opened my mind to what else is going on in the world," said Alexis Avery, an undergraduate student who has previously participated twice in the alternative break trips to New Orleans. "It's one thing to be aware and it's a whole other thing to become a part of the rebuilding."
At the end of her trip, there was a candlelight ceremony to reflect on what had been accomplished within the week and for the homeowners to express their gratitude toward the volunteers.
Students who have participated in this program in previous years have used the program to give them direction toward their career path. The program has provided past participants with social connections. They are with each other 24 hours a day for the whole week and there are students who end up becoming roommates the next semester or even start dating, Amyotte said.
Alternative spring break has been offered every year since 2001. The program gives students the opportunity to volunteer at international sites and locations throughout the United States where the trip typically lasts for the entirety of spring break. Alternative winter break is also offered where the length of the trips last up to two weeks.
In 2011, 113 students and six staff members participated in alternative breaks between winter and spring. In 2012, approximately 108 students and seven staff members have participated between winter and spring breaks.
For future alternative breaks, it is expected that at least one location will be at an international site, however, nothing is set in stone until the summer, according to Amyotte.