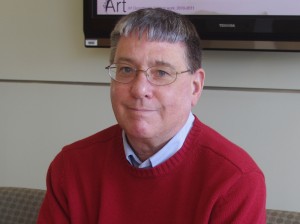 Science fiction has made its way into the English department, with Thomas Bertonneau at the forefront. Classes have been captivated with literature about France being destroyed by crimson-purple fire, or aliens colonizing Earth.
For those brave enough to venture where no man (or woman) has gone before, or just love science fiction, the course satisfies General Education and undergraduate English requirements. The course draws in students from many different majors and adds diversity to the courses available in the English department at Oswego State. Science fiction is a mythopoeic genre that is interested in the largest possible issues.
"[The issues are] the origin of the universe, the origin of the human race, the origin of consciousness, the question of whether there are other planes of existence," Bertonneau said. "Whether there's a supernatural in addition to a natural, and these discussions find a very natural home in science fiction stories."
When Bertonneau first began reading science fiction in the 1960s during the large paperback boom, what he read was already several decades old, because paperback houses were publishing stories that appeared in magazines 20 to 30 years before. He looks to the first half of the 20th century for the more interesting content, considering it a genre of historical interest.
"My literacy is primarily founded on my determination to read 'War of the Worlds' [by H.G. Wells] when I was 11 years old," he said. "It's about gigantic machines, generally destructive, pitted against each other in cosmic battles. That's just sort of an irresistible, imaginative treat for a 12-year-old boy."
Bertonneau mentored Zara Janessari, a student from the University of Tehran in Iran, for her dissertation. Bertonneau had an article published in the Anthropoetics Journal when he first started teaching here, which was read by Bezhad Ghaderi Sohi, an Ibsen scholar at the University of Tehran. He contacted Bertonneau in regards to his interest in the article and they have remained in touch since. He thought Dr. Bertonneau naturally would be a good advisor for.Janessari received the first Ph.D ever in their foreign language department and chose to study her dissertation on American science fiction.
"He contacted me on her behalf and I contacted her," Bertonneau said. "The way it worked was pretty much the way any advising worked. Her learning curve was rapid, she writes beautiful English prose and she has a very keen interest in the subject matter, which of course I share. She's translated four stories into Farsi (the language spoken there) and published it in Tehran. I intend to remain in touch with Zara," Bertonneau said.
In February, Bertonneau held a seminar lecture by live video conference where students could watch Zara Janessarri as she gave a lecture and answered students' questions. Leigh Wilson, director of the creative writing department at Oswego State, said that the video lecture had obvious benefits for students and the diversity it brought to the department.
"I, for instance, have no idea what the milieu in Iran would be for a working science fiction writer," Wilson said. "I had a good sense of it as soon as she spoke. She made it pretty clear science fiction is a new thing in Iran. They are just now starting to have anthologies. Here we have a brand new, newly minted Ph.D who is probably at the forefront of science fiction in her country. How exciting is that? Obviously there are very few opportunities to speak to academics in Iran, period."
Bertonneau earned his Ph.D in comparative literature at UCLA. Besides being a fluent reader and teacher of the course, Bertonneau is also regularly published. He has even co-written written a book about science fiction with his friend, Kim Paffenroth. Paffenroth received her Ph.D in theological studies at Notre Dame University. Together they wrote "The Truth is Out There: Christian Faith And The Classics of TV Science Fiction," which was published in Michigan in 2006 and was well-received.
"We decided to write the book together. We thought we could redeem television by doing it. The book is about religious themes in classic TV science fiction," Bertonneau said.
Bertonneau believes that the nourishment in science fiction is that it has a very powerful philosophical themes, such as the nature of human beings, cosmic reality, ethics and the character of civilization. He refers to it as a genre that exerts natural attraction to people who are intellectually curious about these perennial questions. He also believes that students who have watched "Star Wars," TV's "Eureka," "Battle: Los Angeles," or Steven Spielberg films would be interested in the course.
"I hope to lead them from that sort of spectacular appreciation of the genre to a more substantial appreciation," Bertonneau said. "That would be my goal. When it comes to science fiction, it is about sharing the knowledge of the good with other people, and you know stories by H.G Wells, Stanley Weinbaum and Edgar Rice Burroughs are good. People who know about them seem to have a moral obligation to share them with people."