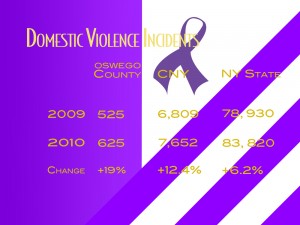 The number of domestic violence incidents reported went up in Oswego County, but it might not just be because the amount of violence that is increasing.
"With any issue that is related to crime or domestic violence there are so many socio-economic factors that play into it," Capt. Michael Beckwith of the Oswego Police Department said. "One of the trends in both state laws and law enforcement is that we have significantly increased and expanded the definitions of what constitutes a domestic incident."
In 2009 there were 525 domestic violence incidents in Oswego County. In 2010 that number increased by 100 to 625. This increase of 19 percent reflects a trend in all of N.Y.
While he acknowledged that crime is on the rise, Beckwith said the numbers are increasing because crimes that used to go unreported can no longer be swept under the rug.
"I think that there is an increase in crime, but I think one of the factors that is effecting it is the increased reporting," Beckwith said.
Oswego Services to Aid Families (SAF) Program Coordinator Cristy King said that expanded laws involving domestic abuse crimes have led to an increase in the number of reports. In the past a stricter definition of family kept people from reporting domestic violence crimes because they would have had to go through criminal court. Civil court is now an option for a more expanded group.
"More people are accessing the civil court system for protection as opposed to the criminal court," King said. "That's maybe increased the numbers a little bit."
Beckwith also said that the new definition of family, which now includes people who are just living together, has led to higher numbers.
"We actually use an even broader definition of family member [In Oswego] than what state law mandates."
Another factor contributing to the increase is the economy; both Beckwith and Oswego County Sheriff Reuel Todd cited the economic downturn as a major reason for a greater number of domestic violence incidents.
"Part of the problem is always going to be the economy," Todd said. "People don't have money, that stresses the whole relationship."
An economy in turmoil can cause stress for a family that would not ordinarily face domestic abuse. Lost jobs, severe debt and bills to pay can cause relationships to falter and more crimes to occur.
"A lot of times when you have high-stress levels in problem areas they tend to drink a little bit more which certainly doesn't help the home life," Todd said.
Gregg Heffner, Oswego County Social Services commissioner said that economic stress was a big factor, but that other types of stress can also incite violence.
"When families are in crisis of any sorts, whether it's financial or relationships or alcohol and drugs, or mental health issues… the family unit and the children are at a greater level of distress and the incidents of violence sometimes is higher," Heffner said.
In Oswego, SAF works with victims of domestic abuse who according to King are not stepping forward in greater numbers.
"We haven't seen an increase in the number of women, we've seen an increase in how long they are staying," King said. "I think the number of people we serve per year… is in alignment with what we were doing before."
Last year the Oswego Police Department received a grant, which allowed them to work with workers from SAF to check back with victims of domestic violence.
"We would review the domestic incident reports in conjunction with the SAF workers and we would have officers go to some of the houses to do follow up visits just to see how things were going," Beckwith said.
This year Beckwith said the department was not sure if the grant was still available. Beckwith also said he was not sure if the program helped deter any domestic violence.
"The amount of time that we did it for, it's kind of hard to make an assessment as to what impact it really had," Beckwith said. "I know a lot of the people that we visited did appreciate the effort… but there weren't a lot of additional results from those follow-ups."
Although this specific program is no longer in place, the Oswego Police Department is open to taking other types of action that could limit domestic violence.
"We are always open to anything we can do to help address the issue," Beckwith said.