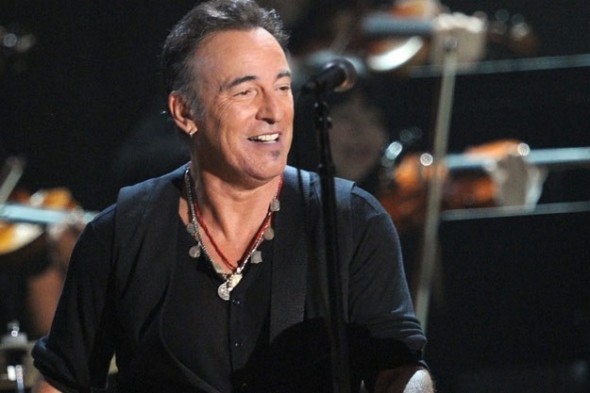 Throughout his legendary career, Bruce Springsteen has made his most vital music when he chronicles the lives of American people at a time of crisis. The workers lamenting broken dreams on 1978's "Darkness on the Edge of Town," the scattered, desperate criminals and low-lifes on 1982's "Nebraska" and the nation lost amidst the tragedy of 9/11 on 2002's "The Rising" are prime examples of Bruce Springsteen channeling the pain of American people with his unmistakable blend of rock, folk and soul.
After the unfocused and frequently embarrassing shot of cheery optimism that was 2009's "Working on a Dream," Springsteen had to go back to the core of his music and look at what was affecting the American people today: and he found it in the Wall Street controversy and the bruised economy. His newest album, "Wrecking Ball," which will be released on March 6, is his fiery response. This is the angriest, most politically-charged Springsteen album in decades, but it is also his most musically diverse. As a result, it is a masterful collection of music that is fiery, rousing and deeply moving.
"Wrecking Ball" sees Springsteen charting out new musical territory for himself. Key members of the E Street Band only make brief appearances here; the musical styles run the gamut of gospel, folk and even hip-hop. The introductions of new musical styles, as well as the stories of American people in turmoil, have re-energized him.
"We Take Care of Our Own," the album's opening track, sounds like a traditional Springsteen song with its shout-along chorus, driving rhythm and most specifically, deceptively superficial lyrics. The song may sound like another hyperbolic piece of jingoism, but when Springsteen repeats the title in the chorus, it is not a statement of pride; it is an indictment of a country that leaves its own people behind. "There ain't no help/the cavalry stayed home/there ain't no one hearing the bugle blowin'" are not the words of a man blindly defending his country. Like "Born in the USA," the song tells a bitter truth about people being abandoned when they need help from their country the most, the album's running theme.
This theme continues through the folksy stomp of "Easy Money," which tells the story of a man who uses violence to take back his fortune. "Shackled and Drawn" is a Woody Guthrie-esque lament from a common man who feels chained down by the greed of the bankers who have stripped the land bare. "Jack of All Trades" is a gorgeous waltz about a man who turns to violence when he is forced to sacrifice his dignity, the last thing he has left, to find work. Springsteen sings: "If I had a gun/I'd find the bastards and shoot 'em on sight." An elegiac horn section gives way to an incendiary guitar solo by Tom Morello (Rage Against the Machine), which provide the song's contrast of beauty and violence.
The contempt Springsteen has for bankers and businessmen living off the misfortune of others erupts in "Death to My Hometown," an Irish battle hymn that reads like a call-to-arms against "greedy thieves" who "ate the flesh of everything around." The chanting vocals and the sound of cannon fire adds to the song's traditional-folk atmosphere, just like Max Weinberg's pounding drums and Morello's air-raid siren guitar squalls add to the defeated ballad "This Depression."
But the second half of "Wrecking Ball" undergoes a dynamic shift in message: even through all the despair, hope springs eternal. That is a message Springsteen's music has personified for over 40 years, and it is represented here starting with the defiant title track, which was written after the demolition of Giants Stadium in New Jersey in 2009, but the lyrics still apply to the current landscape, with Springsteen telling the masses to "hold tight to your anger" and that "hard times come/and hard times go/just to come again." "You Got It" is swinging country-blues that is nothing more than a simple love song, but is another diversion from the darkness, finding Springsteen in a playful mood.
"Rocky Ground" comes as a shock. Springsteen has experimented with hip-hop and R&B sounds before, but never to this extent. Featuring a gospel choir and a spoken-word rap delivered by vocalist Michelle Moore, the song is very spiritual, with Springsteen and Moore calling for unity and perseverance following years of strife.
But everything on "Wrecking Ball" culminates with one extraordinary moment of grace on "Land of Hope and Dreams," a concert staple for over a decade that has been reworked into an inspiring piece of gospel-soul: the final appearance of Clarence Clemons, the E Street Band saxophonist who died of a stroke last June. His solo sounds like it comes down from heaven itself, adding to the song's already considerable power. It is a stirring final tribute.
With "Wrecking Ball," Springsteen has rediscovered his muse while pushing the boundaries of his music. This fearlessness, along with the culmination of anger and joy, despair and hope are what make "Wrecking Ball" a stunning achievement.