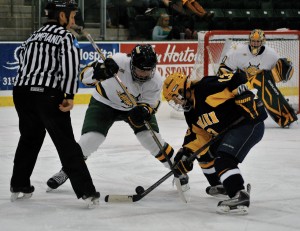 The Oswego State women's ice hockey team made history Saturday afternoon, earning its first-ever playoff win in its six-year history.  The Lakers shut out the Neumann Knights, 3-0, after losing to them in a 2-1 double-overtime heartbreaker in last season's playoffs.
"We remember what that bus trip home was like last year; they've got that trip today," head coach Diane Dillon said.
The win means the Lakers move on to the ECAC West Semifinal round, where they will face SUNY Plattsburgh, but it also means much more for the program as a whole.
"We couldn't have scripted this any better," Dillon said. "They made program history.  Not only did we get our first home playoff game but we are starting to believe, as is rightfully so, that we are a good team in this division, which is the toughest division in Division III hockey."
In the first period, the teams battled back and forth with little action occurring until the final seconds.
The Lakers found themselves on the power play with less than two minutes left in the frame.  In the final second of the period, senior forward Kelly Collins netted the rebound off a shot from sophomore forward Carly Henderson, getting the Lakers on the board first.  Senior forward Mackenzie Lee was also credited with an assist.
"Anytime you score in the first or last minute of a period it's a death blow," Dillon said. "Anytime you can take momentum like that and that kind of energy into the locker room it carries off into the second period."
The last-second goal was devastating for the Knights who appeared deflated coming into the second period.
"I think it put a big dent in their confidence and that's exactly what we needed to do," senior captain Kathryn Sbrocchi said.
In the second period, the Laker offense continued to shine with Oswego State tallying two quick goals early in the period.
Sophomore forward Melissa Seamont scored the Lakers' second power-play goal of the game, with Lee getting her second assist of the game and freshman forward Carly Marchment earning one as well.
Less than two minutes later, sophomore forward Megan Howe added the third goal for the Lakers.  Seamont and Lee were instrumental in this goal as well as Seamont passed to Lee who found Howe in the circle.
In the final period, both teams had chances but ultimately Neumann was shut down by the Laker defense and could not score, even with the empty net allowing for the extra attacker.
The Knights could not capitalize on any of the four Laker penalties, leaving Oswego State perfect on the penalty kill.
Freshman goaltender Bridget Smith earned the shutout, making 18 saves in the victory.  Neumann goalie Shannon Donnelly put up a valiant effort making 31 saves for the Knights.
"[The shutout] means that it was a team effort.  No one was doing selfish plays," Sbrocchi said. "Everyone was just confident in each other and we did it together as a team."
Dillon was pleased with the effort put forth by her team, which she said was truly playing like a team.
"What I was most impressed with our team today was their ability to stick to the game plan and keep their heads in the game," Dillon said.  "One thing I shared with the team before the game was that talent will do a lot of things for you but it's team play and how a team plays together in a playoff game that matters and we did that today."
The Lakers have come a long way since their 2-1 double-overtime loss to Neumann in last season's ECAC West Quarterfinals.  Although they were playing the same opponent, there was a much different Laker team on the ice for this season's shutout win.
"We have more depth as a team," Sbrocchi said. "The chemistry on our team is just awesome…that really makes a difference on the ice."
"I think we are becoming more mature as a program," Dillon said. "We know how to play as a team better."
This win served as a huge milestone for the program, which set two of its season goals as winning a playoff game and establishing itself in the top half of the conference.
"We are in a point in our program's history that we are really solidifying what we are about," Dillon said.
"It's so big for this program," Sbrocchi said.  "We've come so far and we have been working so hard this year.  I think we really deserve it."
Now the Lakers advance to the semifinal round and will face Plattsburgh on Saturday at 5 p.m. at Rochester Institute of Technology's Ritter Arena.  Although the Lakers were shut out twice in the regular season by Plattsburgh, 5-0 and 6-0, Oswego State moves forward with confidence.
"It doesn't matter what you did in the season. It doesn't matter what you did last year; it matters what you do for 60 minutes," Dillon said.
Last year, the Lakers upset top-ranked RIT, 2-1, on Ritter Arena ice and there is no reason to believe another upset won't happen there again.
"I think this is our year," Sbrocchi said.