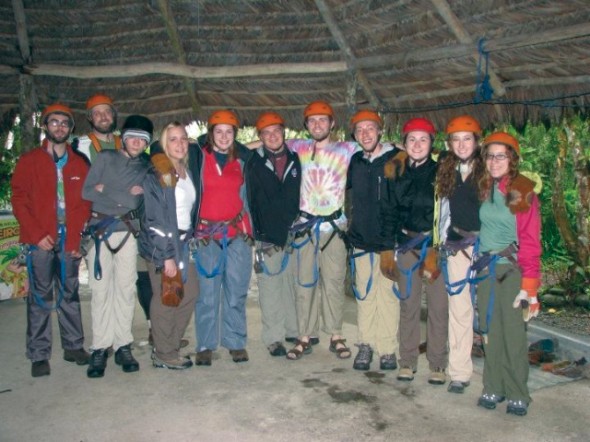 Students who visited far-flung countries over winter break came back with the urge to help those who helped them. The Oswego Going Global: Climbing Kilimanjaro Team and members of "Sustainable Development: Ecuador" are holding fundraisers to gather materials that will help the communities that sheltered them during their trip.
"This particular organization [Fundación Semilla Ambiental] is stuck in limbo," senior TJ Scandaliato said. "It's newly founded and has trouble getting funding, compared to well-established organizations, making it hard for the foundation to develop."
Fundación Semilla Ambiental is mainly concerned with conservation and application of Ecuador's environment and resources. The foundation deals expressly with ecotourism.
Lisa Glidden and Tim Braun, co-directors of the Ecuador course, contacted the director of Fundación Semilla Ambiental to get a "wish list" of equipment needed to keep the foundation running and better educate individuals in the surrounding area on the benefits of biodiversity.
"The one item that was totally out of our budget range was a biogas system, which will turn the excrement of 34 pigs into enough electricity to power three homes in the community of Shanshipamba, where we stayed," Glidden said.
"The need to get capital to create infrastructure for ecotourism is the biggest issue right now." Scandaliato said. "If they don't have money, there's no way they can help the people of Shanshipamba, who actually have the most to gain if the foundation makes it."
Oswego Going Global was designed with the purpose to foster the feeling of global citizenship in the students taking part.
"Our mindsets changed enough for us to see that any small thing we can do would make a big difference for these people, and they deserve it," said Mckenzie Dillman, climb member and head of the Outdoors Club.
The Kilimanjaro team's main focus for their fundraiser will be getting climbing gear to help the porters that guided them up the mountain.
"I know how big of a difference it can make to have a piece of gear that makes your life easier, and these guys work so hard every day and have no access to the kind of gear we're sending them," Dillman said.
The Kilimanjaro gear drive will be held on Tuesday, March 27, at 7:30 p.m in the Campus Center room 225. Dillman also encourages students to come to an Outdoor Club meeting Tuesday, March 20, to see a special presentation on climbing Kilimanjaro by one of the class leaders, Gary Morris.
The Fundraiser for the Foundacion Semilla Ambiental will take place in the Hewitt Ballroom on Wednesday, April 11, at 6 p.m. Students can expect food and live music.