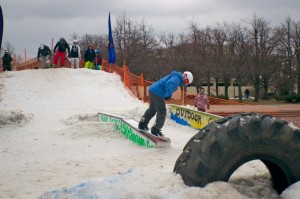 Winter sports enthusiasts flocked to the quad Saturday for an afternoon of dubstep and Red Bull-fueled competition in Oswego State's inagural Rail Jam contest.
The competition, hosted by the Ski and Snowboarding Club in coordination with the Lifestyles Center, Outdoors Club, Film Club and WNYO, took place on a large snowbank fitted with multiple grind rails in the middle of the quad.
According to Ski and Snowboarding Club officer Nick Christopher, a rail jam is similar to other extreme sports competitions, where points are awarded based on a rider's performance in various "heats."
"We basically brought the X Games to the quad," Christopher said. "This is something that has been done at other campuses before, and we've always wanted to do it."
Despite the similarities to typical competitions, however, the Rail Jam was slightly different. Ski and Snowboarding Club Vice President Tom Bijesse explained the significance of the contest's "jam" format, which allowed riders to take multiple turns on the hill as needed within a 10-minute heat, as opposed to normal competitions, in which riders would have their own separate time on the hill by themselves.
"Somebody could get 10 runs, while one guy could only get two," he said. "People just go crazy for 10 minutes."
Bijesse further explained that the rail jam format allowed judges to choose winners without assigning numerical scores to each rider.
Originally, the club planned to use the standard rules of the competition, but decided to switch to the jam format in order to make the event more entertaining.
"We originally wanted to introduce each individual rider with their favorite song to ride to," Bijesse said. "In the end, we decided to switch to the jam format."
The event was stuck in planning stages for a long time, with insurance troubles being one of its main deterrents over the years. This year, the presence of multiple campus organizations helped win over the event's opposers.
"We had other clubs come in, and got insurance going that way," Bijesse said. "We pushed hard, and that's how we got it."
In order to further resolve potential insurance problems, all participants were required to sign waivers relieving Oswego State, the Ski and Snowboarding Club, and Red Bull of legal responsibility.
Lifestyles was an avid supporter of the contest, according to Alcohol and Drug Program Coordinator Ted Winkworth.
"Our center is about promoting healthy lifestyle choices," Winkworth said. "We don't want people to just be boring; we want people to go out, be active and enjoy their lives."
Winkworth also spoke out about the insurance issue, and why he believed that the Rail Jam was not nearly as dangerous as many had expected.
The center distributed T-shirts and other prizes to the crowd throughout the afternoon.
"In the real world, is this anymore dangerous than going out and drinking 10 beers and possibly falling down?" Winkworth said. "This is far less dangerous than that."
A total of 18 snowboarders and eight skiers participated in the event, which drew over 300 spectators between 1 p.m and 4 p.m. Due to the shortage of snow in the area, grounds crews were called in on the day of the event, as well as the night before, to extract snow from various parking lots and other areas around campus in order to construct the hill.
Bijesse gave particular credit to the grounds crew for their help with the event.
"We couldn't have done it without them," Bijesse said.