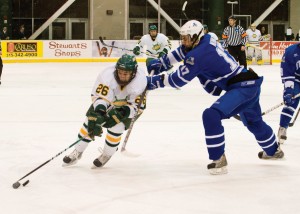 When the hockey gods came up with the SUNYAC Championship, they meant for Oswego State and SUNY Plattsburgh to play in it; it's just the way "it ought to be." And lo and behold, that is what we have. The Lakers and Cardinals will play for conference bragging rights on Saturday, in what will be one final tune-up for the NCAA Tournament for the green and gold. Although Plattsburgh has a good chance of making the "big dance" even if they lose to Oswego State, I'm pretty sure that they'd like to end their seven-game winless streak for an automatic bid.
Shutout weekend. It was advertised as "White Out weekend," but Andrew Hare had other ideas. Hare posted back-to-back 3-0 shutouts over Plattsburgh and SUNY Potsam on Feb. 17 and 18, respectively, and ended up with an overall streak of 1:60:23 of game-time without surrendering a goal. Hare finished the regular season with the best goals against average, save percentage and the most shutouts in the SUNYAC.
Lightning streak. On the other side of the puck, Jon Whitelaw just keeps on rolling. His point streak has reached 12 games, and he has tallied a goal in six straight. Many believe that he was shortchanged in SUNYAC Player of the Year voting, in which The College of Brockport's James Cody took home the award. Whitelaw leads the Lakers in goals (21) and points (39), and is setting himself up nicely to be the clear candidate to be sporting a "C" for his senior season.
Blue Devil blowout. Despite falling behind 1-0 in the SUNYAC semifinals to SUNY Fredonia, the Lakers prevailed by an 8-3 score, making it 18 goals in two games against the Blue Devils. Ian Boots, who scored a pair of goals in the playoff game has been a force all season against Fredonia, scoring a goal in each of the three matchups. The Lakers have historically struggled against Fredonia, losing to them twice in the SUNYAC playoffs over the last five seasons, and scoring only eight goals over the three games in last season's head-to-head matchups.
The SUNYAC Championship. The Lakers make their return to the SUNYAC Championship after winning it in the 2009-10 season. They defeated Plattsburgh that year as well. Of the current Lakers, Paul Rodrigues, Taylor Farris and Andrew Mather tallied goals in the 6-3 win on March 6, 2010. Of the 11 times Oswego State and Plattsburgh have played for the SUNYAC trophy, the Cardinals won nine of those contests.
Following Saturday's SUNYAC championship game, the Lakers will wait on word for what will likely be an NCAA tournament home game on Saturday, March 10. A win would bring them to their third consecutive Frozen Four, which will be held in Lake Placid, N.Y. It'd be anything but a miracle for this team to win it all, but there will undoubtedly be an Olympic-size celebration if they can.