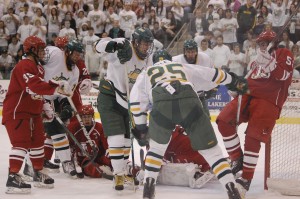 With the final weekend of the regular season upon us, the Oswego State men's ice hockey team has reclaimed the No. 1 spot in the nation. The top placement in the USCHO.com poll marks the first time the Lakers were there since the Nov. 7 standings. The goal now is for them to finish the regular season with a firm grasp on that seeding and keep the momentum rolling into postseason play. After a total of 22 goals scored over the last three games since my last write up, there is a lot to discuss this week:
Good things come in threes. The Lakers went all of last season with a total of only two hat tricks but have notched three over the past three weekends. Junior forward Chris Brown was first with his three-goal performance at The College at Brockport on Jan. 28. Junior forward Paul Rodrigues followed with a five-goal outburst at Morrisville State College on Feb. 4, and junior forward and assistant captain Jon Whitelaw netted a trio of tallies at home against Buffalo State on Feb. 11. It was the first career hat trick for each player.
Better things come in fives. Ok, something should have stood out in that last paragraph. Rodrigues scored five, that's right five goals against Morrisville. He pitched in with an assist too, giving him a six-point evening, in the eventual 8-1 victory. It was the first time a Laker had tallied five goals in a game since Brendan McLaughlin did so on Nov. 4, 2005 in a 10-1 home win over Brockport. McLaughlin also had six points that night.
Going streaking. Oswego State's hot offense of late has bred multiple point scoring streaks throughout the lineup. Most notably Whitelaw, who has registered points in nine straight games, recording 16 over that span (eight goals, eight assists). The junior assistant captain has also scored a goal in three straight and has a total of six in those contests. Junior forward Chris Muise also possesses a scoring streak, going eight straight games with a point. Over that stretch he has scored four goals and seven assists for 11 points. Other current streaks: junior forward Tyler Leimbrock (six games, three goals, six assists) and Chris Ayotte (six games, three goals, five assists).
Whiteout 2012. Some say the end of the world is coming this year, and even I would have started to get suspicious if the highly anticipated Oswego State/Plattsburgh game ended up being No. 1 vs. No. 2, and boy were we close. Last week's No. 1, Norwich University, lost on Friday to Skidmore, opening the door (at the time) for No. 2 Oswego State and No. 3 Plattsburgh. The Lakers took care of their business, but the Cardinals fell in a 4-2 decision in Brockport on the same night as Norwich's defeat, dropping them to No. 4 in the poll. In the end, we still get a top-five matchup nationally, and a game that will go a long way in deciding who ends up with the No. 1 position in the conference once the playoffs begin in another week. A Laker win on Friday clinches that, meaning home ice advantage throughout the SUNYAC playoffs. The Cardinals will need a win on Friday followed by another on Saturday at SUNY Cortland, coupled with an Oswego State tie or loss to SUNY Potsdam. The Lakers are 5-0-1 in games against Plattsburgh since the 2009-10 season. The two teams played to a 2-2 tie in their first head to head this season in North Country on Dec. 2.
The offensive outburst since visiting Morrisville at the beginning of the month has propelled the Lakers to a tie for the top scoring offense in D-III hockey. Coupled with the third best defense in the country, it would seem that everything is clicking at just the right time for them. The scorers are scoring, the defenders are defending, and junior goaltender Andrew Hare has allowed more than two goals only once in his last seven starts. Plattsburgh will provide one final test as the Lakers gear up for what will hopefully be a magical postseason run, culminating in a place where a miracle once happened.