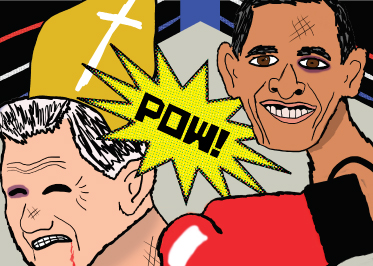 Access to affordable birth control is a human right. Study after study has shown that the poorer a woman is, the more likely she is to have an unplanned pregnancy. More studies show that the main cause of this is the use of birth control. Women in the middle and upper class are more likely to use birth control (and to use it properly) than women in the lower class.
You may have heard a lot of rhetoric in the news recently regarding whether Catholic organizations should be required to include contraception in their health insurance plans. The Obama administration insists that every woman in America should have access to affordable birth control, while the Catholic Church insists that any organization with any ties to it should be able to deny this right to their employees.
Sometimes in life two human rights are in conflict with each other. The right to practice one's own religion is also a basic human right, and this must be considered. But if the right to practice one's religion interferes with a woman's right to control her own body, which right must prevail? What have we decided as a society in the past when this question came up?
We can think of obvious examples when the right to practice your religion should be trumped by other human rights. Human sacrifice and ritual stoning are good examples. Even animal sacrifice is going out of fashion, despite being the worship-method of choice in the Old Testament. Obviously, if those religious beliefs cause physical harm, the human right of safety should prevail. But the Catholic Church would argue that no one is hurt by its policy. The Catholic Church argues that a woman who practices abstinence instead of using contraceptives is just as likely to succeed in life, and that any woman under their influence should abide by those rules.
Even if you assume the Catholic Church is right, does its right trump women's rights? If the only standard is that no physical harm must be caused, polygamy would still be legal. There are more subtle and less obvious damages that are caused by policies such as the Church's, and they do indeed violate women's human rights.
The Vulcan philosopher Surak once said: "The needs of the many outweigh the needs of the few." (Star Trek II: The Wrath of Khan) Although this philosophy is somewhat utilitarian, I have found it very useful when no other philosophy seems to work. Although I would never say that religious freedom is less important than freedom over one's body, the freedom of all women should prevail over the freedom of one particular religion.
As Nicholas Kristof pointed out in his column on the issue, what if Jehovah's Witnesses insisted that their health insurance not cover blood transfusions? Or if Muslim or Jewish organizations insisted that their employees are only treated at sex-segregated hospitals? Even the Christian Science Monitor (which is a Christian Scientist organization that does not believe in modern medicine) offers a standard health insurance package. So what makes Catholics any different from any other religion?