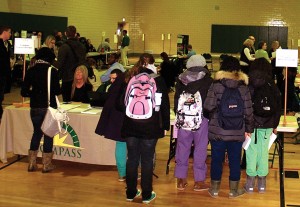 The third annual Oswego State "Job-a-Rama" was held at Swetman Gym in the Campus Center on Wednesday, Feb. 8.
"Job-a-Rama" is an event that is coordinated by the Sophomore Year Experience Committee with the collaboration of the Compass.
Various departments on campus send representatives and vendors to the event so students of all academic levels can explore opportunities for job offers, find out information about internships and studying abroad, open work study positions and volunteer work.
This year, the departments that attended "Job-a-Rama" included Campus Recreation, Department of Campus Life, Division of Extended Learning, Fitness Centers, Graduate Office, Office of Public Affairs, the Orientation Office, Compass Career Services and the Intern program, among others.
"Most years, we have five to six hundred students attend," event coordinator Gary Morris said. "I sense that hiring is down a little bit. Usually we have about 30 to 40 campus organizations and this year we're hovering in the low 20s."
More than 500 students attended this year's "Job-a-Rama."
"I looked at the Campus Recreation and Fitness Centers to try to apply there and get something, hopefully," sophomore Tommy Seefeld said.
Despite the lower than normal turnout of vendors, students still responded positively to the purpose of the event.
The current economic situation has made the job market challenging and competitive. "Job-a-Rama" is another way to help college students now and later on when they merge into future jobs and careers.