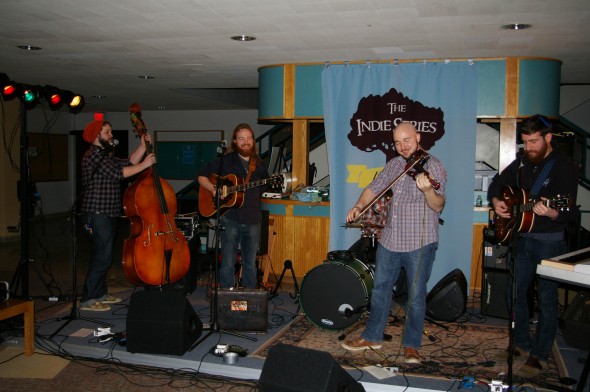 Oswego State's Hewitt Union Lounge held three musical performers last Friday, Feb. 3, known as the Indie Music Series.
Supported by Oswego State's Artswego Performing Arts Series and WNYO-FM radio station, the indie concert proved to be a success. Alcohol and Drug Program Director Ted Winkworth, known for being the front man for the hardcore punk band Another Breath, pulled together these amazing groups. His efforts were supported by WNYO's general manager Scott Glickman and program director Andrew Nicholson. The three acts included Sam Katz (Syracuse, N.Y.), Larcenist (Boston, Mass.) and Brown Bird (Pawtucket, R.I.).
The concert had its fair share of native encouragement. Katz, brought in an opening crowd eager to sit at floor level and mellow out to the warm tones of her jazzy vocals, backed by her acoustic guitar. Her voice sprang from her vocal chords in essence of well melded, mid to high color. The strumming of her guitar constructed harmonies and melodies, shaping the songs she sang.
Continuing to the contribution of Upstate New York community, the Boston-based band, Larcenist, took the stage. Four of the five members were born and raised right in the Syracuse and Oswego areas. The band includes Jonathan Tompkins on drums, Brandon Mastrangelo on guitar, Steve Terry on bass guitar, Jonathan Schoeck on piano and Valentin Splett on electric fiddle.
Larcenist blends American folk and rock music with a post-punk undertone. Each member adds their vocal flavor and a touch of soul. They describe their music as a striving to give their listener a sense of hope and incorporate harmony to create elaborate story telling. The group continues to play songs from their 2011 EP, "We Become The Hunted," and their January 2012 single, "Beard Song."
Headlining the show stood the Rhode Island duo, Brown Bird. Currently embarking on a full U.S. tour, the group made an early stop at Oswego State. Their current tour is in support of their October 2011 release, "Salt For Salt." Brown Bird combines the feel of Gypsy and Eastern harmony with the authenticity of American rock and blues. The mixed sound produces a sense of darkened folk, although band member MorganEve Swain refuses to label their music as folk.
Swain discussed in a previous interview, "The music that inspires us runs the gamut from John Zorn's Masada String Trio, to Mastodon, to The Lost Jewish Music of Transylvania. We love Roger Miller, The Talking Heads, Black Sabbath, Red Fang, Micah Blue Smaldone, Leonard Cohen and Taraf de Haiduks. All these influences come out in our music in one way or another."
"Salt For Salt" is their first studio record they have released as a duo. This approach tackles the struggle of performing with only two musicians, yet still producing a full concert sound. Swain also explains that this allowed them to experiment with musical styles they love, such as heavy metal and Eastern European folk.
With this being said, Brown Bird is known for their live performances. They generate a lot of sound for just two people. They do this by playing multiple instruments, which brings excitement to the stage. David Lamb sings and plays guitar or banjo while simultaneously using foot pedals that hit a bass drum, a tambourine or wood block. MorganEve Swain contributes backing vocals while trading off between multiple instruments such as upright bass, cello and violin.
Swain emphasized that playing with multiple instruments allows them to create different textures and sounds for each song. Although it is a challenge and essential to have a large enough vehicle to haul them all, the crowd largely approved. People closed in on the stage and began dancing and even called the band back for an encore.