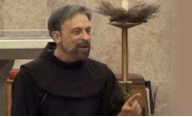 People in need of insight, guidance and perspective need look no further than the Lord, according to a release from St. Joseph's Catholic Church.
"During this time of instant gratification and "what's in it for me," it's good to some times just step back and reflect on all that's going on in our busy lives, whether it be work, high school, college, or just trying to maintain our sanity," wrote Brenda Zumwalt in an email. "Fr. Pompei will take us down the path of life."
Father Francis Pompei and St. Joseph's Church in Oswego invite all to join them in a parish mission. The mission will begin at 7 p.m. on Feb. 26-28 and last roughly one hour and 10 minutes. Plans for the ceremony include prayer, readings, talk and "a concluding ritual of experiencing the Lord."
The church is located at 240 W. First St. in Oswego.
"All are welcome and encouraged to attend the mission," said the release. "To share in 'a powerful experience of Jesus.'"