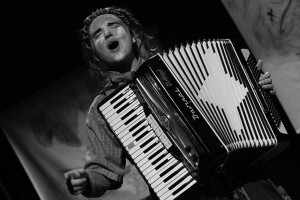 Despite its title, Cynthia Hopkins' "The Truth: A Tragedy," directed by D.J. Mendel, is much different from what audiences may expect from a typical tragic play.
Hopkins, the performer and writer of "Truth," entices audiences with music, dance and comedy in her play, and shows that while people often make light of the truth, in its purest form, it can be a tragedy.
Hopkins wrote "Truth" as tribute to her late father, John Goodwin Hopkins, and the play depicts his long, debilitating struggle with Parkinson's disease, through the amusing, though distressing, stories that came with it.
Several direct quotes come from parts of Hopkins' father's favorite poems, including "Ulysses" by Lord Alfred Tennyson and "Do Not Go Gentle Into That Good Night" by Dylan Thomas.
The musical comedy, "Onions!" based on the book written by John Hopkins himself, and also inspired "Truth."
Cynthia Hopkins' costume itself demands attention in "Truth;" her face painted white, braids protruding from her scalp and men's ties dangling from her belt, she emanates her knack for comedy.
However, while appearing comical, such an ensemble reflects her father's loss of sanity that he experienced while suffering from Parkinson's.
In addition, Hopkins' portrayal of multiple characters, including her father's ignorant doctor and a female nursing-home resident, reveals the amusement and devastation of his disease.
But it is through Hopkins' portrayal of her own father that she gives the most raw performance. With choreography by Faye Driscoll, Hopkins mimics her father's loss of motor functioning, including his inability to feed himself, in a disfiguring, disturbing pantomime.
In addition, Hopkins performs jigs to old sea songs and shanties rooted from her childhood.
Hopkins weaves comedy and tragedy throughout "Truth" in her portrayal of her father. Wearing thick glasses, she acts as her father hosting comedy routines based on the many obstacles he endured with his disease.
"Ever had a catheter?" Hopkins asks. "It's hell!"
However, within the comedy that "Truth" frequently carries, a documentary shown of Hopkins' father in his state of mental and physical disintegration pulls away the curtain that has hidden the tragedy of his disease; filmed by a handheld camera, Hopkins sits idle in a wheelchair in a nursing home, and clearly, the truth has become evident.
Hopkins also shows an unmatched talent through her singing; she unmasks every emotion pertaining to life with her father with heartfelt lyrics and melodious instrumental performances.
The music written by Hopkins for the play reveals her soulful attitude and devotion to keeping her father's memory alive in songs including "Oh Father" and "Love."
Although acting alone onstage, Cynthia Hopkins captures audiences with her gifts in music writing, and performing in "The Truth: A Tragedy." She brings her father back to life through witty dialogue, and unlocks the truth within the amusement of her father's tendencies during his disease.
"And the truth," as Hopkins states in her play, "is a tragedy."
She will be hosting two open classes towards the end of the semester for Oswego State students striving to achieve a profession in the performing arts. Hopkins has won several awards in theater, and her works have been performed across the nation, as well as internationally, including in Lyon, France and Edinburgh, Scotland.