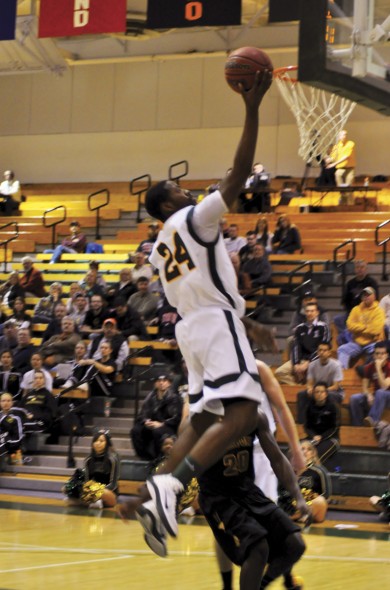 The Oswego State men's basketball team led from start to finish in its 89-75 victory over The College at Brockport Tuesday night. Despite leading scorer and senior forward Chad Burridge being held to just seven points, the Lakers used a balanced offensive attack with five players in double figures to defeat a very physical Golden Eagle squad.
"It makes everybody feel like they are a part of things. It makes it difficult for the defense to guard our team because they know everybody can make a shot," Leone said of the balanced attack.
"Other people on the team have to step up, like they did," junior forward Hayden Ward said. "Conor [Monaghan] plays great D, Ryan [Sheridan] comes in off the bench makes shots for us, Sean [Michele] is solid. Every night is going to be a different guy."
The Lakers came out early and showed the Golden Eagles that they were going to have to fight for every basket. Brockport turned the ball over on each of its first three possessions and did not make its first basket until four minutes had already come off the clock. Despite the poor offensive start, the Golden Eagles kept themselves in the game with hard-nosed, physical defense that forced the Lakers into contested shots.
The game took on a very slow pace over the course of the first 13 minutes. The Lakers had a 24-17 lead due to offensive rebounds and second chance buckets by Ward and Burridge. Junior forward Chris Gilkes hit three buckets in a three-minute span to stretch the Laker lead to 10. Ward caught a pass on the block and converted a layup to stretch the Laker lead to 11 with three seconds left in the half, 44-33.
In the first half, the Lakers were led by Ward's 12 points, and 11 from Monaghan, including three 3- pointers.
Oswego State came out strong in the second half going on a 13-2 run beginning at the 18-minute mark. The run was started with a 3-pointer by Michele and two by Sheridan. A dunk by Burridge capped the run and forced Brockport head coach Greg Dunne to call a timeout.
Brockport went on an 11-2 run in the second half, sparked by two steals from senior guard Gerald Williams to cut the lead to 10. Oswego State put an end to the run when Ward's missed free throw was grabbed by Gilkes. Later in the possession, Gilkes found a cutting Burridge who laid it in, which halted the Golden Eagles' momentum.
The Lakers were paced by Ward's hard-fought 24 points and 12 rebounds.
"You just got to play as tough, if not tougher than them," Ward said. "You got to just go right at them. You can't back down."
Four other Lakers were in double figures including Michele with 16, Monaghan with 13, Gilkes with 12 and Sheridan with 11. Brockport was led by 19 from junior forward Donnell Jackson and 16 from Williams.
Leone was proud of the way that his team fought over the course of the physical game.
"We have proven we can win games in a lot of different fashions," Leone said. "Good teams find a way to win no matter how the game is being played."
Burridge hit the deck hard with 3:20 remaining in the game and did not return. Burridge was running off to the side and showed a slight limp but Leone doesn't seem to think he will miss any time.
"Nothing that a day off won't fix" Leone said.
The win keeps Oswego State undefeated in SUNYAC play at 12-0 and improves its overall record to 16-3. The College at Brockport falls to 5-6 in conference and 7-11 overall. The Lakers next game will be at 4 p.m. on Saturday at SUNY Cortland.