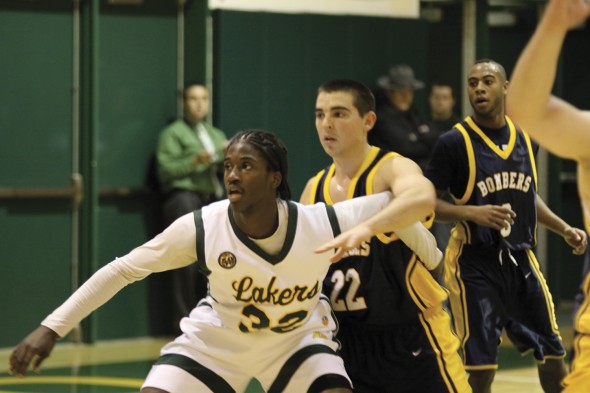 The Oswego State men's basketball team rebounded from a season-opening loss to St. Lawrence with three consecutive home wins over a five-day span.
The streak started during the Max Ziel Men's Basketball Classic, which began on Nov. 18. The Lakers (3-1) opened up against Ithaca College (1-5) and defeated the Bombers 74-71.
Oswego State held the lead for the final 11:37 of the game, but Ithaca was able to hang around and put itself in a position to tie the game with just under four seconds remaining after senior captain and guard Sean Michele missed the second of two free throws, and the Bombers captured the rebound.
"Normally, under five seconds to go, up three, I like to foul," Lakers head coach Jason Leone said. "The problem is, we hadn't practiced that as of yet, and I never like to do something in a game that we hadn't worked on in practice."
Oswego State instead played straight man-to-man defense and put pressure on the ball carrier, forcing Ithaca's junior guard, Sean Rossi, to throw up an errant 3-pointer at the buzzer that bounced off of the rim, sealing the win for the Lakers.
The team was back in action the next day against Wells College (1-4) in Oswego State's final game of the tournament. The Lakers earned another win in dramatic fashion on a buzzer-beating 3-pointer from Michele.
Both teams started out flat shooting, going a combined 0-for-10. Wells was able to come out to an early 10-4 lead, but the Lakers were able to go on a run and tie the game at 18.
Oswego State was able to pick it up in the second half, as the team held a nine-point lead with 4:32 remaining. But poor shooting and defensive execution allowed the Express to tie the game with 33 seconds remaining.
"I made a bad decision, we stayed in the zone a couple possessions too long," Leone said. "We made some mistakes personnel-wise, we didn't get to a couple of their shooters, and they made a couple shots."
The Lakers were able to regroup and take possession of the ball during the final seconds, earning the final possession of a 55-55 tied game.
"We were going to screen [junior forward] Chris Gilkes into the post, I thought there was a size advantage with him," Leone said. "What happened was the play broke down, Gilkes drove the ball and forced help. He made a great extra pass and as soon as they were in rotations and helping, Sean [Michele] was the last guy that was left open and stepped in."
Once Michele released the ball, Leone had no doubt that the ball was going in the basket and his team was going to win the game.
"If you watched the game, when it left his hand, you saw it said 'that's definitely going in,'" Leone said. "To Sean's credit, he stepped right into it. It was like a shot he shot everyday in practice. He wasn't nervous."
The two wins gave Oswego State a share of the tournament title with SUNY Fredonia (5-0), who also beat Ithaca and Wells. Senior captain and forward Chad Burridge won tournament MVP honors, as he led the Lakers with 23 and 11 points against Wells and Ithaca, respectively.
"When [Burridge] is on the floor he's somebody that's going to command a lot of attention, so that makes the game easier for everybody else on the floor," Leone said. "He is a very intelligent player. He sees things on the floor and has a very high basketball IQ."
The Lakers followed the win over Wells with an offensive explosion on Nov. 22 against SUNY Cobleskill (0-6), blowing out the Fighting Tigers 107-53.
"I thought that was our best game," Leone said of the win. "We executed the scouting report and we moved the ball well against the zone."
Burridge led all scorers with 15 points, as he was one of eight Lakers to record double-digits. Michele and junior forward Hayden Ward also contributed 13 points.
"[The game] validated that we have good balance, which I think all good teams have," Leone said. "It validated that we made shots that particular night, and stuff like that can be contagious."
Overall, Leone was pleased with what he saw out of his team over the past three games.
"I think we've gotten a little bit better every game," he said. "The thing I've been encouraged about is we've been a little more consistent defensively with our effort, finishing our possessions rebounding-wise and executing our game plans and scouting reports."
Oswego State will now gear up for the beginning of SUNYAC play this weekend with home games against SUNY Potsdam and SUNY Plattsburgh on Friday and Saturday, respectively. The Lakers start a span of five consecutive conference games.
"What I've tried to do with the players is break the season up into mini-seasons," Leone said. "We had a first part that was the four non-conference games, now this is the next segment of our season where we play these five conference games. These five games are going to be very important games, and we've talked to the team and they can handle that."