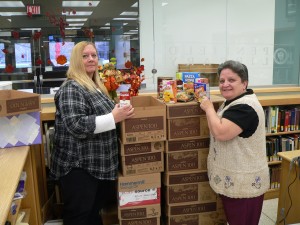 Penfield Library collected 638 non-perishable pantry goods during its annual "Food for Fines" drive, Ray Morrision, who administers the program, said. The contributions, which filled 25 boxes, forgave $371 in fines.
While that may seem like a weighty contribution, the total donation is down dramatically from this time last year.
"This has been a terrible year," Morrison said. "That, to me, is tragic. We're just kind of confounded by all this."
The library received only half of the donations obtained last year. In 2010, 923 items were collected to forgive $638 in fines; 2009 was even bigger, with 1058 pantry items gifted and $886 forgiven.
The food items are given to Oswego Human Concerns, located on East Fourth Street in Oswego. The organization provided many Thanksgiving dinners to locals in need this year. The holiday significantly depleted their pantry.
Librarian Thomas Larson speculated that one reason the donations are down could be that the library has increased the amount of time items can be taken out before incurring a fine. Previously, students were able to check out books for 28 days. Now they may borrow for 42 days. That might lead students to incur fewer fines, and for the fines to register later than they would have before the change.
Morrison, however, has another theory.
"A lot of it has to do with time," he said. You can save up to 75 percent on your fine, at least. Everybody is just so rushed that they don't want to take the time do that."
Students without access to transportation might prefer to pay their fines in cash, rather than schlep to a grocer to take advantage of the program. In fact, Morrision said that during the period the "Food for Fines" drive was on, the library noted more fines were paid in cash than were forgiven through donations.
"We're more than happy to give up the fines money for charity," Morrision said. "We promoted it; everybody who had a fine got an email."
No portion of fines collected in cash are donated to Oswego Human Concerns.
Larson said the charitable program has a long history, going back more than 20 years.
The "Food for Fines" drive allows students to pay down late fees (but not lost book fees) by accounting for each donation against a student's total fines. For example, four packages of Raman noodles donated this year would have reduced a student's total fine by $1. The program, which only accepts pre-packaged, non-perishable food items, ended Nov. 23.