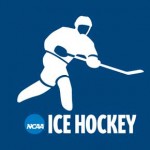 Despite two hard-fought conference victories on the road against SUNY Fredonia and Buffalo State, the Oswego State men's ice hockey team lost all of its first place votes from a week ago in this weeks USCHO.com Men's Ice Hockey Poll. The Lakers remained as the No.2 team in Division III hockey and garnered 273 points. Sporting a 7-1-1 overall record, the Lakers have a week off before heading to North Country for a weekend against archrival SUNY Plattsburgh and SUNY Potsdam.
For the second straight week, Norwich University sits atop the poll, defeating New England College and St. Anselm. The Cadets, undefeated at 4-0-0 overall, received the majority of the first place votes with 18. Castleton College received the remaining two first place votes and remains at No.3, having won its first six games of the season. Adrian College comes in at No. 4, posting back-to-back shutouts against Lake Forest over the weekend. Wisconsin-River Falls rounds out the top five, which remained unchanged after a week of play.
Plattsburgh bounced back from a loss at Buffalo State, defeating the College at Brockport and SUNY Geneseo to remain at No. 6 in this week's poll. St. Norbert is the first team in the poll to make any movement, moving up one spot to No. 7, sweeping a two-game series against Wisconsin-Eau Claire. Milwaukee School of Engineering jumped up one spot to No. 8 and currently sits at 5-1-0 overall. Utica College dropped two spots to No. 9 after dropping a one-goal decision at Neumann College. Elmira College rounds out the top 10 after defeating Hobart College on Friday night.
Middlebury made the biggest news of the week, vaulting to No. 11 after not being in the top 15 last week. Middlebury defeated Curry College and Bowdoin College to begin its season. Wisconsin-Superior moved up one spot to No. 12 and St. Thomas cracked the top 15 at No. 13, sweeping a two-game series from Gustavus Adolphus. Neumann dropped two spots to No. 14 and St. Thomas remains at No. 15 to round out the top 15.
Other teams receiving votes are: Williams (23), Wisconsin-Eau Claire (14), Amherst (13), Curry (12), Bowdoin (10), Marian (10), Plymouth State (8), Tufts (2), Buffalo State (1), Manhattanville (1), Salem State (1), Wisconsin-Stevens Point (1) and Wisconsin-Stout (1).
USCHO.com Men's Ice Hockey Poll 11/21/11 (First Place Votes)
1. Norwich (18)
2. Oswego State
3. Castleton (2)
4. Adrian
5. Wisconsin-River Falls
6. Plattsburgh
7. St. Norbert
8. Milwaukee School of Engineering
9. Utica
10 Elmira
11. Middlebury
12. Wisconsin-Superior
13. St. Thomas
14. Neumann
15. New England College