Potsdam Bears 5           Brockport Golden Eagles 3
Maxcy Hall (Attendance: 361)
SUNY Potsdam was able to overcome 16 penalties, as Sy Nutkevitch tallied four points on two goals and two assists. The win moves the Bears into a tie for fourth place in the SUNYAC standings with SUNY Geneseo and SUNY Fredonia, all of which have compiled six points in conference play. The game featured 59 total penalties minutes and three power-play goals. The Golden Eagles (1-6-1 overall, 1-5-1 SUNYAC) had 11 power play opportunities, converting on two. Tied at one in the second period, Potsdam (4-3-0 overall, 3-3-0 SUNYAC) tallied off three unanswered goals, two of which by Adam Place. Place finished with two goals and two assists for a four-point night.
Cortland Red Dragons 5           Fredonia Blue Devils 5        F/OT
Steele Hall (Attendance: 85)
Cortland (3-3-1 overall, 2-3-1 SUNYAC) received goals from A.J. Moyer and Joey Christiano in the third period to tie the game at five and force overtime, where neither team would be able to score the game-winning goal. Fredonia's Jared Wynia registered a hat trick in the second period, which featured seven combined goals. The Red Dragons tallied the first three goals of the second period to take a 3-1 lead, but the Blue Devils (4-4-2 overall, 2-3-2 SUNYAC) answered with four unanswered goals to take a 5-3 lead into the second period intermission. Cortland's Brittan Kuhlman finished with 38 saves and Fredonia's Mark Friesen finished with 32 saves.
Plattsburgh Cardinals 2        Geneseo Ice Knights 0
Ronald B. Stafford Ice Arena (Attendance: 2,006)
The Cardinals (5-1-0 overall, 5-1-0 SUNYAC) scored twice in the second period and the defense held the Ice Knights scoreless, as Plattsburgh remains just one point back of first place in the SUNYAC standings with a key matchup with archrival Oswego State coming up on Dec. 2. Vick Schlueter scored the game's first goal on the power play at 2:50 of the second period and was quickly followed by Matty MacLeod's goal at 4:59 of the frame to give the Cardinals a two-goal lead. It was all Plattsburgh would need, as goaltender Mathieu Cadieux finished with 23 saves. The Cardinal defense limited the Ice Knights (4-5-0 overall, 3-4-0 SUNYAC) to just 12 shots in the first two periods.
Oswego State Lakers 5         Buffalo State Bengals 3
Buffalo State Sports Arena (Attendance: 519)
The Lakers trailed by one in the third period before rallying to net the final three goals to remain unbeaten in the SUNYAC. Paul Rodrigues scored two goals and added an assist for Oswego State and Jon Whitelaw and Ian Boots each recorded two assists. Tied at one after one and tied at two after two, the Bengals took a 3-2 lead at 1:34 of the third period on the power play on a goal by Justin Knee. Rodrigues, Tim Carr and Kyle Badham scored for the Lakers in the second half of the third period to preserve the victory. Andrew Hare finished with 22 saves for the Lakers.
SUNYAC Schedule 11/22-11/26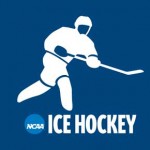 Cortland @ Hamilton (NC) 11/22 7 p.m.
Norwich vs. Plattsburgh (NC- Primelink Tournament) 11/25 4 p.m.
Neumann @ Cortland (NC) 11/25 7 p.m.
Neumann @ Cortland (NC) 11/26 3 p.m.
Elmira/Middlebury vs. Plattsburgh (NC- Primelink Tournament) 11/ 26 4/7 p.m.
Buffalo State vs. St. Thomas (NC- Adrian Tournament) 11/26 2 p.m.
Tufts vs Morrisville (NC- Rutland Invitational) 3 p.m.
Brockport vs. Hamilton (NC) 11/26 (NC- Skidmore Invitational) 11/26 5 p.m.