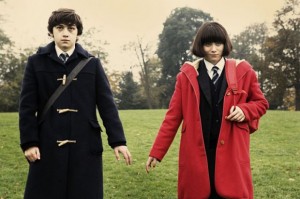 New on DVD Oct. 4 comes a film from across the pond, "Submarine" (2010). This coming-of-age comedy-drama is adapted from the novel by the same name by Joe Dunthorne. Richard Ayoade, well known for his role as Maurice on "The It Crowd" served as director and the film was his directorial debut. Ben Stiller acts as one of four producers on the film.
Oliver Tate (Craig Roberts) is a peculiar fifteen year-old Swansea (a coastal city in Wales) boy in 1986. The film plays with reality and imaginary, as Oliver believes he is a genius and extremely loved, when in fact he is an awkward fifteen-year-old boy who is socially challenged. He has a crush on the class bully, the candid and cruel Jordana (Yasmin Page). Oliver's love for Jordana goes so far that he teases an overweight female classmate and in his gullibility is tricked by Jordana to kiss her (the photographs were used to make her ex-boyfriend jealous, but it back-fired). Besides the quirky romance that begins between Jordana and Oliver, Oliver has growing concerns about his parents and their marriage. Oliver believes they are not having sex. His dad, (Noah Taylor), is depressed and the new flirtatious neighbor, Considine, is a new age guru and conveniently is his mom's ex-boyfriend.
The film is often narrated through Oliver's thought processes, which are touching for a fifteen-year-old, but prove the cluelessness of the protagonist. He is a hero who only wants to have his own experiences and love and for his parents to stay together. When Jordana's mother develops a brain tumor, Oliver breaks up with her to prevent Jordana from suffering more because their love makes Jordana feel weak. Other humorous moments include the Viking burial for Jordana's beloved dog and the young couple breaking into a theme park to set off sparklers late at night.
First loves, life and death, parents fighting, accents and young raw talent are all elements of great indie-film quality. Unlike a lot of teen movies out right now, "Submarine" steers clear of the drugs, sex and shallowness to focus on the normal quirks of growing up, speaking truth of adolescence no matter who you are. The cast is strong, the dialogue is witty and it is an absolute treat to enjoy on the weekend.
The film premiered at the 35th Toronto International Film Festival in September 2010. It also went on to screen at the 54th London Film Festival in October 2010 and the 27th Sundance Film Festival in January 2011 and in November at the 61st Berlin International Film Festival. The Weinstein Company for North American release picked up the film. Original songs were written and performed by Alex Turner, the Arctic Monkeys' front man.