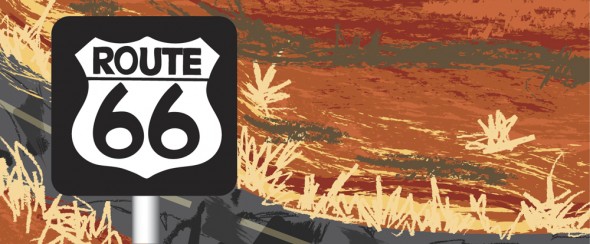 Go west young man. No other phrase is more typical of the American spirit—bristling with a brew of one part wanderlust, one part entrepreneurial gumption.
And it used to be that you could go west and start anew, baptized in the transcontinental sea of distance and emerging with a fresh, self-made identity. Manifest destiny was only one long highway away, too. They called it Route 66.
For those in the know, the road used to be called America's Main Street because there was a time when one could ride all the way from Illinois to Southern California. Before the age of the Internet and mainstream culture, nothing else served so faithfully as the central nerve of America.
During the '30s, the road was the escape route for those affected by the Dust Bowl. In the '50s, Route 66 spawned a culture of mom-and-pop ventures that shaped post-industrial small-town enterprise. Until Eisenhower helped shepherd the Route into obscurity by establishing the interstate system, Route 66 was the fairway of our travels and the fodder of our shared American fantasy.
That's the power of infrastructure. But sadly government has neglected its duty to maintain safe and efficient roads, bridges and rails. On the one hand, the situation is understandable; infrastructure is a federal line item thoroughly devoid of sex, sizzle and controversy. If you want that, let's talk about federally-funded abortions, stem cell research or raising the retirement age.
I have a better idea: I'll use my pen to stab myself in the pancreas, because those talks will just circle the same roundabouts as they always do. In the end, we'll have reached no conclusion but we'll be as hopping mad as Andy Rooney near eyebrow clippers (too soon?).
Infrastructure, like George Bush, is a uniter, not a divider; okay, but seriously, it's a topic that we can all agree on.
Here are some facts: a 2010 report from the non-partisan Government Accountability Office found that one in four of America's bridges were "structurally deficient" or in need of massive overhauls. Is anyone okay with that? Because last time I checked in with myself, I'm not. (Also, I'm pretty sure I have to drive over at least four bridges to get home this Thanksgiving—and I maybe it's just me, but I hate when my road trips have that faint aftertaste of Russian roulette.)
Maybe that kind of neglect is kosher in Uzbeki-becky-becky-becky-stan-stan, but not for the last superpower on Earth. And this just in, Herman Cain: rebuilding infrastructure will create a job! Many, many more than that, actually.
If Congress wants a jobs bill we can all agree on, how about restoring our country's highways and byways? A dollar spent on this kind of project has been proven to create more than a dollar in benefits. Currently the American Society of Civil Engineers gives our country's infrastructure a 'D' overall and our roads an even worse grade: 'D-.' If my child got those kind of grades, I'd get them better teachers. Either that or try for another one, because every family needs a smart child, and that first kid's going to need a brainy sibling after I'm gone.
So here's a novel idea. Let's rebuild Route 66. Unfortunately, a byproduct of its long obsolescence is that one can no longer travel the whole road in one epic stretch. There are gaps of gravelly, ugly and unnurtured road where detours are necessary. Do we want to think of the America's Main Street as one with detours?
If pop music has taught us anything, it's that life is a highway. I think the American dream is, too. You're going to want that thing paved.