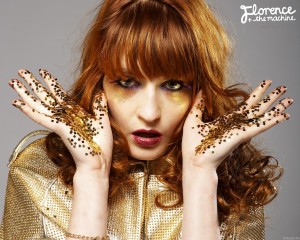 "And I had a dream," Florence Welch croons 10 seconds into "Only if for a Night," the first track of Florence and The Machine's second album, "Ceremonials." One may wish to pipe up and respond, "Yeah, and so did Martin Luther King."
But if you stymie your skepticism for only a moment, the British singer-songwriter navigates the soaring synth beat and haunting chorus across the River Styx to relay a spooky, but genuinely touching tale of a ghostly visitation from a dead relative. The melody is vast and pervasive, creating a landscape of sound that sweeps the listener up and doesn't let go until the album concludes an hour later.
That is roughly the formula Welch and producer Paul Epworth have carved out on "Ceremonials," exploding, enveloping auras of tilted, sometimes eerie and faintly-psychedelic sounds that stand up to Welch's signature caterwauling. Epworth is also the producer behind another across-the-pond sensation, Adele. Critics have pegged Florence and The Machine as Adele's stranger, more baroque musical cousin.
"Lungs," Welch's first album clearly set the stage for "Ceremonials" with tracks like "Girl with One Eye" and "Between Two Lungs" that put her dark side on display. The fixation on ghosts and death by drowning continues here, one might even say that sort of existential pang is the seed or driving force behind "Ceremonials," but on "Lungs," those songs cohabitated with beats of pure ecstasy and rapture like "Cosmic Love" and "Rabbit Heart." On the second album, Welch largely shrugs off transcendence through joy in favor of dark ritual and a salvation that arrives in the night on the back of tumultuous yearning and unsettling realization; though notes of bliss return momentarily on "All This and Heaven Too," the song's lyrics effuse a melodic nihilism:
"And the words are all escaping me, and coming back all damaged," she sings over gliding rhythms. "And I would put them back in poetry, if I only knew how; I can't seem to understand it."
Welch has even adopted a new look: an art nouveau-inspired vogue full of satin pastels and tons of tortured, even desperate-looking expressions glimpsed while wearing draped gowns.
What fans of "Lungs" might miss most about "Ceremonials" is the harp; the instrument so little heard in today's music and so effectively put to use on the last album is barely heard anywhere now. Sometimes, like on the bluesy "Lover to Lover" it's not present at all, and while it makes it presence known in "Spectrum," it is often drowned out in other tunes.
"Ceremonials" is also smoother and less percussive than its predecessor. These changes reflect a shift for the band, which is really just a vehicle for Welch with a revolving lineup of other players. The new sound is more vocal-driven with personal, emotion-heavy lyrics. That does not mean the album is not fantastic. Rock-inspired tracks like "Bedroom Hymns" and the slow and bracing "Never Let Me Go" are definitely worth a download, even if you are not sold on purchasing the whole slate of songs.
What new listeners will appreciate is Welch's sophisticated marriage of the scientific, literary and mythological. The first single "What the Water Gave Me" references a Frida Kahlo painting and the suicide of Virginia Woolf alongside the burden of Atlas, an ancient Greek titan. Early press reports quoted Welch saying her second album would be a musical treatise on science—and while she obviously changed the concept before writing and recording "Ceremonials," some glimmers of that idea shine through. The propulsive and driven sound of "Stangeness and Charm" speaks of equations sent from heaven and exotic mixtures of hydrogen and oxygen. The title is a reference to the quirky names quantum scientists have given to some of the attributes of subatomic particles. "Spectrum" takes its theme from the phenomenon of white light unweaving to form a rainbow as it passes through a prism.
Welch is a talented songwriter with an economy of words. Her inspiration seems to arrive in flashes; she has described "Cosmic Love," a stunningly drum-laden beat with planetary lyrics, as a fleeting inspiration scribbled down in less than 30 minutes, in the midst of a hangover. Another song, "Hurricane Drunk" is about the hangover itself. Welch even speaks to the confessional nature of her songwriting in "No Light, No Light," which, though it is the seventh song on the album, was written and recorded before the others.
"It's so easy to say it to a crowd, but it's so hard my love to say it you alone," she laments before using the last syllable to launch into the longest-held note on the album, over 12 seconds. Earlier: "Would you leave me if I told you what I've done? Would you leave me, if I told you what I've become?"
The song is a good taste-test for anyone unsure if they will like the eclectic crooner's alternative fare, as the track seems to set the table for the rest of what is offered.
All in all, "Ceremonials" is a solid sophomore effort from a talented musician who can draw you in with her virtuoso voice and hold you there with her deft lyrics. But here is to hoping that Welch will turn away from the darkness and go towards the light on her next project, expounding once again on glittering transcendences replete with airy injections of harp, as well an occasional song about the hangover.