In what has been an injury-riddled career for senior goaltender Paul Beckwith, a knee injury can now be added to that list, as this season's starting goalie has been sidelined with a knee injury that will keep him out of the starting lineup for a unspecified amount of time.
Beckwith sustained the injury during the first period of the season opener at Elmira College on Friday, Oct. 21, a game where the Lakers would end up winning, 7-3, behind the strong play of junior goaltender Andrew Hare.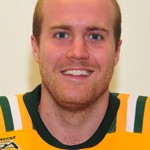 "I was going to my left and my knee deciding to go to the right," Beckwith said. "I felt a pop. It didn't hurt right away because of the adrenaline, but later on in the game it started to hurt."
Beckwith is scheduled to return home to Cleveland, Ohio during the Thanksgiving break, where he will be evaluated by his doctor. Beckwith has been receiving treatment to his knee by the Oswego State team doctors. It is unknown what part of his right knee is damaged, as Beckwith did not want to speculate until he was 100 percent sure, but he did say that it will keep him out for awhile.
"It could be a month or it could be the entire season," Beckwith said.
According to Beckwith, the injured knee has been bothering him during the preseason and he hoped that the knee would recover on its own. Beckwith has had his knee operated on before in a procedure that removed some cartilage.
"I was figuring it could have just been that, but I wasn't really sure because it was hurting in a different place," Beckwith said.
With Beckwith out of the lineup, the Lakers have turned to Hare to fill his spot in net. In five games so far this season, Hare has compiled a 4-1-0 record, compiling a 1.72 goals against average and a .937 save percentage. Oswego State junior goaltender Dan Jones may see some time in net as well.