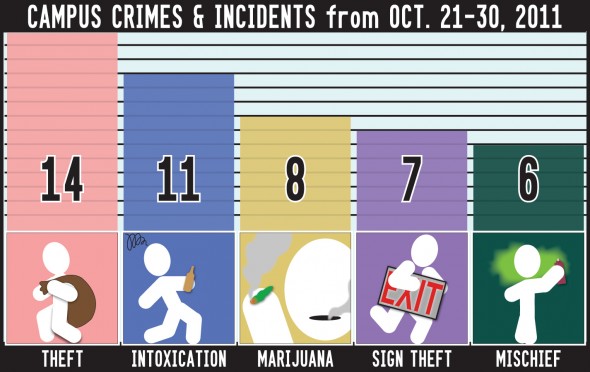 Since Aug. 26, at least a dozen exit signs have been stolen from campus buildings, Fire Marshall Tim Ganey said.
"This year it seems to be more prevalent on the weekends," Ganey said. "I don't understand why people do it."
Exit signs are put in place to ensure that the campus community knows where to leave a building in cases of an emergency. Those safety precautions have been threatened with the ongoing theft of signs.
Ganey noted that while exit sign thefts occurred in past semesters, it was not nearly as many as this semester.
"Unfortunately they keep doing this," Ganey said. "Time is on our side. We'll catch them."
The most recent sign was stolen from Oneida Hall on Saturday. University Police is currently investigating the case, said John Rossi, University Police's assistant chief.
Most of the signs this semester have been taken from the tunnels on West Campus.
"Our officers are aware of where the thefts are occurring and we're walking through those areas unannounced at different times," Rossi said.
There are three crimes that are associated with taking exit signs, Rossi said. When a student breaks a sign, they are charged with criminal mischief. If they take a sign, it is clarified as petit larceny. When someone is caught with a stolen sign they are charged with criminal possession of stolen property in the fifth degree. All of these are misdemeanors.
"Some of them we've noticed it takes more force than others to remove. It depends on the make and model of the sign itself," Rossi said. "We've recovered a couple of the signs, but we really don't know what the fascination is with taking the signs."
The theft of exit signs is also a concern for Director of Residence Life and Housing Richard Kolenda.
"It can range anywhere from $100-$250 depending on how much damage is done to the unit itself," Kolenda said. "The cost is one thing, but the safety is another and that concerns me more than the cost."
When a sign is stolen, it has to be replaced immediately, Ganey said. That can be a bigger issue on weekends when the college must call in an electrician who typically charges $100 in overtime pay to install the sign. The sign itself can cost between $60 (for the plastic signs in the Campus Center) and $160 (metal signs). Ganey is also concerned with the safety of the students, particularly with those who steal the signs.
"Our major concern is life safety for the people who are ripping them off," Ganey said. He added that when a sign is taken, a student is exposed to 110 volts of electricity.
"It can put you into cardiac arrest." he said.
The facilities department is currently working with U.P. and Resident Life to find ways to better reinforce current signs and research different exit signs.
"They are put into the wall very securely, however, students can always find a way," Kolenda said.
One option is installing cages around existing signs, Ganey said. Another could be self-illuminated signs which glow in the dark. They plan to make a final decision in the coming weeks.
While Ganey is uncertain of the motivation behind the crime, he does have a message for the people who have taken exit signs.
"I wish they'd return them," Ganey said. "We'd like to reinstall them."