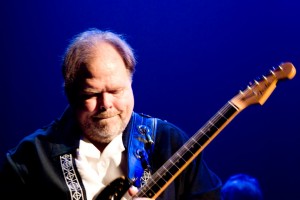 With the recent release of his blues and rock album "Six String Svengali," Buddy Whittington has been preparing for a solo tour in the United States and United Kingdom. From his home in Texas, Whittington discussed his history of collaborations, writing style and touring.
Q: You have an impressive cast of musicians that you have played with in the past. Who is accompanying you on this current tour? Explain their role and history in the band.
A: I have indeed been fortunate, and feel truly blessed to have either played with or appeared on shows with most of my inspirations, influences and musical heroes.
I will be bringing a worthy crew of Texas players that I have performed and recorded with quite a lot; they are featured on both my solo albums.
Michael "Mouse" Mayes is my co-guitarist, vocalist and my old friend. If there is a part that needs to be played or sung, one of us will cover it.
Wayne Six is our bassist and background vocalist. We have played together since probably the mid-'80s. He is as solid as they come, and we have played a variety of gigs as sidemen over the years.
Mike Gage is our drummer, and also the engineer/producer of both my solo CD projects. He is currently working on his own solo project, playing all the instruments, writing the tunes and singing; a true talent with a very discerning ear for what is right on a track.
Q: I see that you have tour dates set in the U.K. How often do you usually tour in Europe or overseas?
A: Usually at least twice a year. After spending 15 years as a Bluesbreaker in John Mayall's band, I have toured extensively overseas and may have a 'foot in the door' over there.
Q: How does your audience receive you when you tour out of the United States?
A: We are generally very well received, especially in England where we have worked quite a bit. We have done well in Italy as well. We enjoy summer festivals such as Pistoia Blues and events in Holland, Belgium and Germany; not to mention a trip to Casa Blanca, Morocco.
The U.K. based guys I work with are very well tenured in the business, and I met them while the Mayall band was touring with the legendary Peter Green's Splinter Group. Roger Cotton plays piano and organ, Pete Stroud on bass and Darby Todd on drums. We have recorded a collection of blues standards and a couple of my originals for sale at the UK/Euro gigs called "Bag Full Of Blues" that has been well received.
Q: The anticipated "Six String Svengali" was recently released. Were there any obstacles or challenges in recording this album?
A: The only obstacle was getting the elements of all the tunes together in time for the release, so we could get out and tour the new material. The tracks were finished in just over a month and I am very happy with the way it sounds.
Q: How much of it, if any, was actually recorded in the states?
A: It was recorded in its entirety at Hurricane Sound in Garland, Texas… If you know your "King Of The Hill" you'll know that the 'fictitious' Arlen is based on the actual city of Garland; a suburb of Dallas.
Q: How do you typically approach your songwriting process? Do you ever map anything out or do you expand on jam sessions?
A: Sometimes I have a title or vocal phrase that will work with a guitar lick I've been playing around with. Sometimes it comes all at once and sometimes it takes a little elbow grease to get it all together. We did indeed play around with the arrangements on some of the songs while recording, and Mike Gage wearing his producer's hat was very helpful there when I had hit a snag.
Q: What inspires you to write the lyrics you do?
A: Mostly just observations of everyday occurrences; I try to keep it simple but sometimes wind up on a lyrical soap-box and have to reign myself in here and there.
Track one, on "Six String Svengali" is called "Back When The Beano Was Boss." It chronicles those halcyon days of the 1960s, when a lot of American kids were introduced to an American art form that they had very little knowledge of, also known as
"The Blues," reinterpreted by a group of young Englishmen; one wielding a low-slung Gibson Les Paul through a Marshall amp–In this case Eric Clapton– who is reading a "Beano" comic in the cover photo of "John Mayall: Bluesbreakers with Eric Clapton" (aka "The Beano"). Eric revolutionized the way our favorite electric Spanish solid-body was laid down on tape; with the volume turned 'hard right.'
Q: You have an excellent tone. Shed some light on what type of gear you are using?
A: I have a little assortment of Fender Stratocasters, Telecasters, a Les Paul, a 335 and some very fine hand crafted solid-bodies by Scott Lentz of San Marcos, California. It is just incredible craftsmanship.
I have heartily endorsed and played through Dr. Z amps going on 15 years now, with the MAZ Jr. and Sr. being my all-time favorites. The KT45 and EZG50 make a few appearances, as well as an old Marshall head I dug out of mothballs every so often to see if it would work.
Q: Do you have any advice for young aspiring musicians?
A: Do your homework. It will come in handy later in life. If being a career musician is your thing, you'll find a way to make it work for you. My dad was known to say, "Music is a real good second job." There are a lot of great players that sit in their hometown playing locally on the weekends and are completely happy doing just that. There are also lots of world-class musicians playing internationally from just about everywhere in the world. There is always somebody better at what they do than you are. Just be aware, that if you're going to pursue a music career, get in line, sit down, shut up and hold on. Like I said, it helps to do your homework, but don't ask me how I know.
Whittington will kick off his tour in the Sheldon Hall Ballroom at 7:30 p.m. on Saturday, Nov. 5.