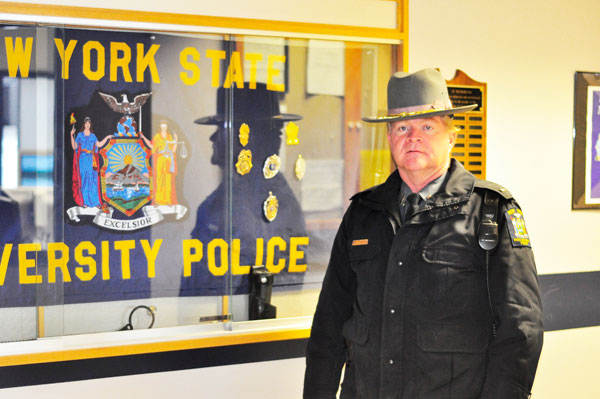 A proposal that would dramatically reconfigure SUNY's University Police structure could save nearly $3 million by consolidating equipment, training and creating a centralized SUNY command.
The New York State Assembly and Senate are currently reconciling differences on a bill that would amend New York State education law and create a police commissioner who would oversee the operation of all university police stations across the state.
But the bill has created a discord between the New York State University Police Officer's Union, the New York State University Chiefs Association and the SUNY Office of the Chancellor on exactly how this consolidation should be executed.
SUNY police were targeted by state Sen. Jeffery D. Klein (D-Bronx) in his December 2009 report highlighting alleged inefficiencies throughout the SUNY system. The officer's union, whose 2008 report suggested eliminating overlapping administrative roles from the force, supports Sen. Klein. According to the report, 48 employees with the title of police chief or assistant police chief made a combined total of $4.4 million.
The university police system is one of four police agencies in New York. It is the only one that operates in a decentralized manner.
James McCartney, president of NYS University Police Officer's Union, is lobbying the state legislature for regional model similar to the NYS Park Police. Police chiefs would be allotted a region that encompasses multiple schools. A captain or other position would then be in charge of running day-to-day operations at the campus level.
Oswego State University Police Chief Cindy Adam said a regional model would go against the very core of the agency's creation.
"Every campus is a very unique environment," Adam said. "You can't have a totally centralized command structure where everything is the same, because everything is not the same."
University police have evolved in their role and responsibilities over the last 40 years. The agency was first created in the 1970s, largely in response to shootings at Kent State and the need for a highly specialized type of officer.
Policing at the university level is much more about prevention and education than anything, Adam said. In her view, centralized commands are inherently reactionary and do little to cultivate the grassroots connection university police currently have with their communities.
At present, all 28 stations included in the SUNY system operate as independent entities. Purchasing, training and procedure development are executed locally, and department chiefs receive funding and report exclusively to their individual college presidents. The current system; however, potentially places police funding in competition with educational funds at a time when budgets are tight.
"Do we support this educational funding or do we put money aside so the police department can buy a new car?" McCartney said. "You're in the education business, something has to suffer and it's usually the law enforcement aspect of it."
Moves to centralize university police are nothing new. Oswego State University Police Lieutenant Michael Taylor, serving his 35th-year as an officer at Oswego, notes that the recent push for centralization is just a product of the budget crisis. When a group points to any area where money could be saved, the proposal naturally takes hold.
"Anything that right now that will save the state money, people will listen to," said Peter Barry, NYS University Police Officer's Union Vice President.
According to Taylor, the higher pay of campus chiefs is justified considering the risk they take by taking the position. University police chiefs are not in the civil service system and lose most protection offered by it. Chiefs are considered management confidential and may be terminated at any time by a college president.
Some have argued that this control from college presidents have over chiefs has allowed them to put pressure on how departments are run and how crime stats are reported.