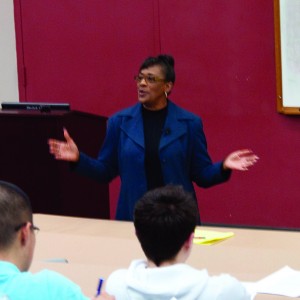 Multicultural education is a tough but pleasurable expedition, a renowned educator told Oswego State students Wednesday.
"I want to remove this table in front of me right now because students and teachers ought to be closer physically, emotionally, and intellectually," Geneva Gay said. "Narrowing the distance helps students obtain higher and deeper level of understanding, work closely together and respect each other."
As an internationally distinguished scholar, award-winning author, and an authority in multicultural education and curriculum theory, Gay, of the University of Washington at Seattle, remarked that education in a particular country reflects its dominating culture, even though all cultures have offered valuable contributions to American society.
Our educational materials do not necessary reflects the reality, Gay said. It is imperative that educators give appropriate guidance on this matter.
"On textbooks, the male dominance makes it almost impossible to find a girl," Gay said. "We are not good at dealing with poverty. Many poor people will always be poor, but we continue to teach our children that everyone can overcome poverty and become president."
"Her knowledge is so profound and I am inspired to be an educator like her to promote social justice," junior education major Rachel Bishop said after the seminar. Kevin Fleming, a graduate student studying visual education, agreed.
"Reading her book I found great tools to address and overcome the grey areas of multicultural education," Fleming said.
Alfred Frederick, a professor of the School of Education of Oswego State, coordinated this event as part of the African and Brazilian Academic and Cultural Exchange Initiatives.