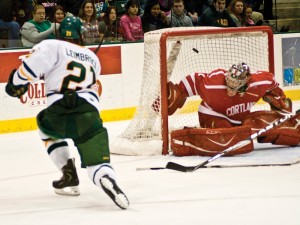 There's something about the smell of the Campus Center Ice Arena that just gets one's hockey juices flowing. For me, that smell first arose in July when I covered the Erik Cole Dream Big Youth Hockey Tournament here on campus for WNYO. Three long, sluggish months later and the new season is finally upon us. The 2011-12 Oswego State men's ice hockey team is one based around filling important holes that were left by last year's graduating class, and trying to pave a road back to the Frozen Four for a third consecutive season, this time all the way to the top.
Graduation Gap. Filling that gap is always an issue for collegiate sports programs once the senior leaders move on. For the Lakers, top point scorers Chris Laganiere and Justin Fox, along with top defensemen (captain) Kevin Huinink and Stephen Mallaro should provide the biggest shoes to fill. Look for sophomores David Titanic and Corey Domenico, who both enjoyed strong finishes to their freshman campaigns, to take on more ice-time and play bigger roles in the Laker offensive attack. Additionally, senior Andrew Mather, who serves as the captain this season, should see time in the top six after a breakout season (28 points) in 2010-11. On the blue line, junior transfer Zack Joshepher joins the Lakers coming over from Division I Michigan State University, and should help to shore up the defense.
The Best of the Rest. Along with Josepher, the Lakers welcome in seven other players to the mix. Up front, Eli Kim-Swallow, RJay Berra, Stan Smrke, Peter Rodriges (no relation to Paul) and Chris Carr (Tim's bother) all begin their Oswego State careers this season. Defensemen Bobby Gertsakis and Nick Rivait will compete for spots on the back end. All seven are freshmen. Interesting tidbit: Kim-Swallow's father, Wayne Swallow ('72) served as captain for the Lakers during his senior season at Oswego State.
You get an A. Joining Mather as assistant captains this season are seniors Jared Anderson and Ian Boots as well as junior forward Jon Whitelaw. Whitelaw is the first non-senior to wear a letter since defenseman Kyle McCutcheon sported an "A" during the 2007-08 campaign. Anderson played 21 games last year after missing his entire sophomore season with an injury. Boots led all Lakers with 40 points. Whitelaw has averaged 34 points over his first two seasons.
Penalty Killers Wanted. For the second straight season, the Lakers lose their top penalty killing forwards. Owen Kelly and Dan Bremner filled in admirably for Neil Musselwhite and Brad Dormeidy, but now their time has passed as well. Mather and Chris Muise are probably the next two in line. Kim-Swallow is known as a penalty killer as well. The penalty kill from 2009-10 to 2010-11 regressed ever so slightly, dropping from an 86 to an 84 percent clip. Oswego State's lone shorthanded goal of 2010-11 was scored by defenseman Tim Carr.
Goaltending depth. On Dec. 10, 2010 when Dan Jones, filling in for the injured Paul Beckwith, suffered a shoulder injury of his own mid-game against the Utica Pioneers, the next in line was forward Joe Hall. Shortly after, Andrew Hare transferred in from Niagara College, and so Oswego State starts this season with three capable players in goalie pads. Beckwith posted a 19-3-0 record with a 2.02 GAA to earn All-American honors. Jones went 3-1-0 with a 1.68 while Hare played only two games, going 1-1-0, including a shutout victory over Curry College on Jan. 8, 2011.
The first USCHO poll of the season ranks the Lakers No. 2 in the nation, perhaps higher than expected after losing to Adrian (No. 4) in the national semifinal last season in Minneapolis. Undoubtedly, they have their sights on No. 1, a spot currently held by defending national champion St. Norbert College. The journey begins on Friday, Oct. 21, as the Lakers and Elmira Soaring Eagles begin a season-opening home-and-home at the Murray Athletic Center in Elmira. The home opener is Saturday, Oct. 22, at 7 p.m. It is never easy filling the holes left behind, but if the Lakers can pave the right path, it will be a great ride all the way to the finish line.