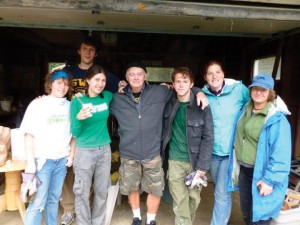 Across the state, the State University of New York has been collecting donations through the SUNY Help fund to provide tuition scholarships to students affected by Hurricane Irene and Tropical Storm Lee.
SUNY Chancelor Nancy Zimpher released a statement regarding the fund.
"Though physical damage to SUNY campuses as a result of Hurricane Irene and Tropical Storm Lee was relatively minor, some of our students' families have not been so fortunate," Zimpher said.
The SUNY Board of Trustees established the fund on Sept. 20 at Zimpher's request.
"Some students have been left with nothing but what they brought with them to campus and entire families are without their homes or were otherwise impacted," Zimpher said. "In the spirit of kinship and community, SUNY stands ready to help those most in need, and I thank the Board for making it possible for us to help as best we can."
Six days after the fund was established, a SUNY Helps page was set up on the SUNY website to collect donations. Officials have yet to determine how the money will be collected, but they must do so before deciding how it will be distributed.
Each of SUNY's 64 campuses will have to determine which of its students were affected by the 2011 hurricane season and need aid, before passing the information along to SUNY.
"Each campus has their own criteria to identify student need, so as a campus identifies a student in need, we'll take it from there," said David Belsky, speaking on behalf of SUNY.
It remains unclear when SUNY will begin awarding the tuition scholarships until it is determined how much money will be available.
Locally, Oswego State students have been assisting victims in their own unique way. Alyssa Amyotte, coordinator for the Center of Service Learning and Community Service, traveled with seven students in September to Binghamton to work on the relief effort. The college is planning more trips for the coming weeks, as well.
Six students, including presidents of several different clubs, traveled to Binghamton over fall break to help with relief efforts.
Senior Allison Snyder participated in the relief effort. She is the treasurer for students for Global Change and happens to be from the Binghamton area.
"[We] drove down to Binghamton with cars that were filled with donations of things such as coats, blankets, cleaning supplies, books for children," Snyder said in an email.
But because students represent many different clubs and outlets, they decided to be the unofficial SUNY Oswego elite taskforce.
"We knocked out walls, ceilings, ripped out floor boards, washed pieces of furniture and things that residents still had hopes to salvage despite water damage," Snyder said.
People appreciated the efforts that the Oswego State students were putting in along with 200 other students from Virginia, Snyder said.
"A few of the former residents of the area, who were in the area coming back to salvage anything they could from their homes, came up to thank us for remembering them," Snyder said. "I'm really glad we went down."