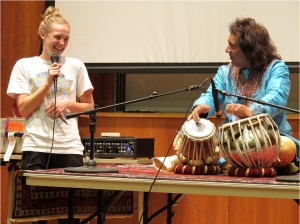 Oswego State is one in five communities to participate in a year-long program known as "Caravanserai," which began Monday. The program playing from Oct. 10-15 is intended to broaden an understanding of Muslim culture. The program is presented by Arts Midwest with additional support from Doris Duke Foundation for Islamic Art. One member of "Caravanserai" is percussionist Ustad Tari Khan, who, as a U.S.-based Pakistani, shares his beliefs and style of playing tabla drums. His role in music not only encourages social change and cultural education but is a basis for his personal spirituality.
Q: What got you interested in this project to visit these rural places?
A: This project is actually very nice project because they educate the people about Pakistan. In Pakistan they have music, art, culture, all so beautiful, so people will know about Pakistan and they also have good musicians. The culture is very rich also and I am really grateful to Caravan. This is a beautiful project and it is also a great honor for me to participate with them.
Q: Is there a greater connection with your music and performance that shares the show of rural Pakistan?
A: Actually as you know where ever you go to travel in the world there is a different language, but music has only one language. I go all over the world and perform, and people love it because everybody understands language. My music is international everywhere because they have notes. They have twelve notes. So the same 12 notes throughout the whole world, just a style difference. The beat is what is going on. God created the beat first I think.
Q: Other than the strength in your fingers, palms, wrist, where else are you drawing from within your body or even outside to bring out your energy?
A: Like I told you before on your inside you have a beat. When you play music and one kid is just dancing to the music, he doesn't know about the music. But he has inside the tempo that clicks within his heart and in his blood… All over the world there are few artists that change the world. These artist are humble, they are modest. Some artists are very proud. "Oh, I am doing something," they say. They are not natural artist. Natural artist are very humble and always give create to God and his teacher. I give credit to God and my teacher. He is a legend and greatest artist in the world and is also from Pakistan. He got the highest award, the pride and performance award… An artist is not a politician. An artist is an artist. Artists think about just art and everybody artists, which is why artists love everybody. Artists do not have any legion. An artist's legion is to humanity, love, and peace.
Q: What other musicians do you like to play with, to accompany you? What other instruments sound best with you?
A: My brother also plays the tabla. Every artist is good. Artists are like flowers and there are many kinds of flowers. So everybody is different. Some people like roses, some people like other flowers. So it depends on what is good for other people.
Khan was born in Lahore, Pakistan. His percussionist themes vary, but his current focus is on the technique of the tabla drums, a set of hand drums. Khan demonstrated his unique style of playing. Each drum consists of different sizes and sounds. He has a way of using different words and syllables to describe and communicate their various sounds. Diversity in his playing comes from different parts of each drum and a range of hand techniques, such as the use of palms and finger tips. After a week of ensemble performances and workshops, "Caravanserai" will conclude this semester's portion Saturday, Oct. 15, at the Ralph M. Faust Auditorium at Oswego High School. The Tari Khan Ensemble will perform along with Qawal Najmuddin Saifuddin & Brothers. Tickets and concert details can be found at http://www.oswego.edu/arts.
Interview conducted by WRVO Public Media producer/host Mark Lavonier