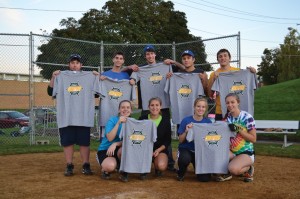 FLAG FOOTBALL:
The flag football league is becoming more competitive as the semester continues. Week four consisted of some big wins for a few teams. On Friday, The Abusement Park defeated the 845 Glads 26-21. SAE 32 came out on top again this week with two more big wins on Saturday and Sunday. The closest game was the Predators versus the Rolltiders. The Predators were able to sneak in one more point and win the game 36-35.
SOFTBALL:
Week four was a big week for the softball league. This week consisted of four major playoff games. The men's semifinals included four teams: No Glove No Love, Dirty Mike and the Boys, Winning and We Wear Sox.
In the men's Finals, team Gibby O'Connor's ace John McCartney ended his intramural softball career with two hits and a complete game shutout of Winning, whom scored an impressive 20 runs in its semifinal upset victory over We Wear Sox.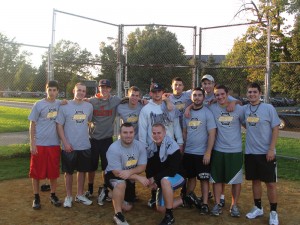 In the Co-rec Championship, Rolltiders captain Paul Harnish hit his Intramural-leading sixth home run of the semester to lead his team to victory. Clean-up hitter Shannon Cilento was also a key member of the Rolltiders offensive attack.
SOCCER:
Oswego State's Outdoor Soccer league kicked off week four with some big wins before its playoff games at the end of the week. Michael Altavilla scored both goals to lead Animal House to a 2-0 victory over Wolf Pack.
Marcus Burry netted two goals to lead the offense for Team Swagger in a 2-1 win over Bloodbath & Beyond. Altavilla scored two goals, while Andrew Ziemins added one for Animal House in a 3-0 win over French Toast Mafia.
Christina Lynch, Lane Allen and Maria Bonacore each contributed a goal for Wolf Pack in a 3-0 victory over Killer Kicks. Ziemins netted two goals for Animal House in a 4-0 win over Team America.
The playoffs were very exciting, as both games went into overtime. In the first game, The Cosby Kids went head to head with The Leftovers and pulled through with a 1-0 victory. The second game was just as intense, as Klutch beat Fake Madrid in overtime with a score of 3-2.
UPCOMING PROGRAMS:
Stop by Swetman Gym this Friday night for Open Recreation Floor Hockey from 6:15 p.m. to 8 p.m. and Open Recreation Badminton from 4 p.m. to 6 p.m. and 8:15 p.m. to 10 p.m. Equipment is available for rental.
Come by the Lee Pool on Tuesday evenings from 6pm to 7pm for free swim lessons for all Oswego State students. Student Learn to Swim will be available every Tuesday night up to October 11.
For complete scores and more information, please visit our website at www.oswego.edu/campusrec.