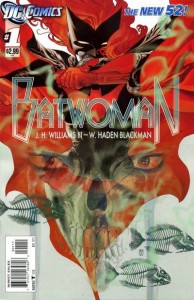 Often in comics there are characters that start out as a side or background character with only a few appearances; but in the hands of a talented writer and artist they can become one of the more popular characters. Batwoman is definitely one of those characters. When DC announced in 2006 that they were introducing a new Batwoman, Kate Kane, they also announced that she would be a lesbian. This stirred up controversy because there aren't many gay or lesbian superheroes in comics. But despite this she went on to become DC's highest profile gay character and one of DC's most popular characters. In 2010, "Detective Comics featuring Batwoman" won the GLAAD (Gay & Lesbian Alliance Against Defamation) Award for Outstanding Comic.
"Batwoman #1" is written by W. Haden Blackman with art by J.H. Williams III. Blackman mainly worked at Dark Horse Comics writing stories for various "Star Wars" comic books before the Batwoman comic. Williams III's art is just superb and he is probably my favorite artist in the industry. The way he arranges the page with his artwork and the surreal imagery, especially when Kate turns into Batwoman are by far the best sequences. He has won several awards for his work. In 2009, he won two Harvey Awards, Best Cover Artist and Best Artist for Detective Comics issues 854-860, which also featured Batwoman as the central character. However, in this issue the art, while still fantastic, features three different styles which often clash when put together.
In this first issue Kane has her hands full. First she has to solve a string of child abductions and deaths all involving a woman called Llorona, or the Weeping Woman. She also has to help train her cousin, Bette, to be a better crime fighter and deal with her father who withheld information from her regarding her sister, who she thought was murdered. It turned out to not only be alive but became a villain named Alice and actually fought Kane.
What Blackman does rather well is balance these subplots into one complete story. Not one subplot seemed to dominate the others; they each had their panel time and didn't seem rushed. But it is here where the art can conflict and it shows. For instance, when Kane and Bette are flying off rooftops the difference between the way Kane is drawn and the way Bette is drawn is very noticeable.
The dynamic between Kane and Bette are very similar to Batman and Robin. Kane is a very strong woman and is commanding and straight to the point. While Bette is just a college student who thinks she knows how to handle herself but in reality she could use a hand. In fact, Kane's and Bruce Wayne's stories are similar.
When she was a little girl, Kane was kidnapped along with her twin sister, Beth and their mother. Kane's father was able to save her but her sister and mother were killed. As a result, Kane wanted to become a soldier and was a top cadet at her military academy, but was dismissed because of her sexual orientation. After drifting for a while Batman saved her from a group of muggers. Batman's heroism inspired her to become a crime fighter under the bat name. While Wayne's story is a little more simplified the similarities between the two are there.
This series is well worth the wait that many comic fans had to deal with. This series was originally going to come out in February 2011 with an issue #0 that was released in November, but the main series was delayed twice and then was released with "New 52." While the wait was at times unbearable this issue did not disappoint and I can't wait for issue number two.