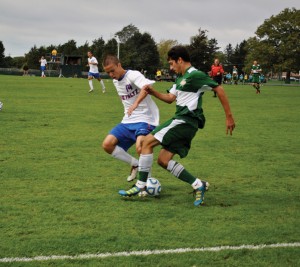 The Oswego State men's soccer team lost its second consecutive SUNYAC game on Saturday, falling to SUNY New Paltz 2-0 at Laker Field.
The Hawks struck twice in a five-minute stretch midway through the first half with junior midfielder/forward Shanshe Khosroshvili netting the first goal with 15:10 remaining.
Exactly five minutes later, freshman midfielder Brian Spina scored the second and final goal of the game. Spina was able to head the ball past junior goalkeeper P.J. Goodwin after it ricocheted off the crossbar, doubling the Hawks' lead. Senior captain Tommy Garafola recorded assists on both goals.
Despite the shutout, the Lakers pressured the SUNY New Paltz defense throughout the game. Although the Lakers were able to keep the ball in the Hawks' zone, they only recorded five shots through the entire game. Four of the five shots came in the second half of play.
The best scoring opportunity for the Lakers came with 10 minutes remaining in the first half. Senior forward Max Guliani registered the shot, which was blocked by sophomore goalkeeper Conor Power.
Goodwin recorded two saves but the Laker offense was unable to keep the team motivated. A late save by Goodwin with 21 minutes remaining could have been a spark to the team, but no counter offensive materialized.
The loss dropped the Lakers' overall record to 5-3-0 and 0-2 in SUNYAC play. SUNY New Paltz improved to 5-4-1 overall and 1-0-1 in conference play.
Oswego State plays its next game today in Potsdam at 4 p.m. The Lakers will then travel to Plattsburgh to play their fourth conference game of the season against the Cardinals at 1 p.m. on Saturday.