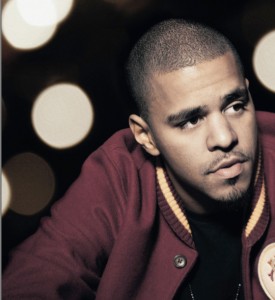 After four years of mix tapes released one after another, J.Cole has finally released his album, "Cole World-The Sideline Story." Cole's album is highly anticipated among fans of hip-hop. The album is being released under Roc Nation, whose founder, rapper Jay-Z, features in the track, "Mr. Nice Watch."
Cole first started making noise back in 2007. Now that the album his loyal fans have waited 3 years for has finally arrived– only time will tell if the wait was really worth it. Cole's production in most songs revolves around major piano and drumbeats with guitar sounds included in most of the songs. Cole World only features four guests (Jay-Z, Drake, Missy Elliott, and Trey Songz), but with a guest list like that, these four are plenty good enough to make the album much better. The most noticeable songs to new fans are "Can't Get Enough (featuring Trey Songz)," "Work Out" and "In the Morning (featuring Drake)."
In a recent interview with MTV's Push Artist of the week segment, Cole said he is not going to stop making music any time soon.
"If it was up to me, I would live in the studio, Cole said.
These are welcome words for Jay-Z, who signed Cole to his Roc Nation label back in 2009.
This album gets 5 out of 5 stars because every song is great and no song makes you want to hit the skip button. This is an album J.Cole fans will love to listen to over and over again.