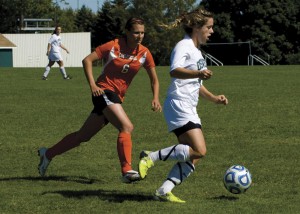 The Oswego State women's soccer team is off to its best start in school history. The Lakers continued their hot start with a 6-0 thrashing of the SUNY Cobleskill Tigers.
Freshman forward Bri Dolan scored early to give the Lakers (6-1-0) a 1-0 lead, and it seemed as though the game would be over early.
Despite outshooting the Tigers (2-4-1) 26-0 in the first half, the Lakers were up just one goal at halftime. However, Oswego State came out with more urgency at the beginning of the second half, pressuring the opposing defense and firing more shots on goal.
The Lakers finally clicked early in the second half, scoring four of their six goals in a 13-minute stretch. Sophomore forward Nikki Liadka continued her stellar campaign by tallying her ninth goal in just seven games so far this season.
Shortly after, sophomore defender Raquel Vescio gave the Lakers even more breathing room by scoring her third goal of the year. Senior defender Lindsey Forte finished the game off for Oswego State, scoring her second career goal, making the score 6-0.
Oswego State goalkeeper Emily Varonier did not face any shots, as the Lakers' offense dominated possession for a majority of the game.
The Lakers' defense was superb, as it did not allow the Tigers to go on the offensive. Oswego State outshot Cobleskill 50-1, and it was the second game in a row the Lakers did not allow any corner kicks.
Head coach Brian McGrane was pleased with his players, but he knows they will have to improve their play throughout the rest of the season.
"I thought we played very well," McGrane said. "One area I thought we were lazy in was our finishing.  We had 50 shots and although I am happy with six goals we had a number of chances that didn't come close.  We need to be more aggressive at times in our one on one battles which we will work on this week."
The Lakers' hot start has been based around the superb play of sophomore forward Nikki Liadka. Liadka has been a catalyst and a leader for the Lakers, and McGrane knows he has a star.
"We have her in a different role this season in the midfield which allows her to see the game a little better," he said. "Nikki makes runs based on what she sees the defenders doing.  Her biggest asset is her speed and up to this point has been able to run away from opposing defenses. We hope she continues to play well for us."
The Lakers won a total of seven games last season, and this year's hot start has raised expectations for the team.
Now the Lakers head into the most grueling part of the season as conference play begins Friday at Oneonta.