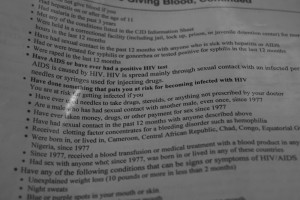 Donating blood to the American Red Cross is one of many ways to make a difference. But since the early 1980s, blood donation rules set by the Food and Drug Administration forbid men who have intercourse with other men from donating.
The Food and Drug Administration states that males who have had intercourse with other males since 1977, the beginning of the AIDS epidemic in the U.S., are deferred from donating blood. This rule was established because of this group's increased risk for contracting infectious diseases.
The Centers for Disease Control and Prevention website says men who have had intercourse with men represent two percent of the population, yet are the group most affected by HIV, including an increase in new HIV infections since the early 1990s. In 2006, these men accounted for 53 percent of all people living with HIV in the U.S.
This deferral policy on men "is intended to protect all people who receive blood transfusions from an increased risk of exposure to potentially infected blood and blood products," according to the FDA's website.
There has been a long-standing discussion about the fairness of the guidelines set by the FDA. Gay rights groups generally view the guidelines as discriminatory. According to the guidelines, heterosexual individuals who are sexually active with an HIV-infected partner are prohibited from donating blood for one year, while men who are sexually active with men are deferred indefinitely.
Members of the Oswego State LGBTQ organization Pride Alliance also said they found the restrictions to be unfair, stating that the guidelines stereotype gay men.
"It's stupid," Taylor Bassett, a senior communications major at Oswego State said. "What if you don't have HIV? If you want to donate blood you should be able to. Straight people can have HIV too."
Donna Morrissey, Spokesperson and Director of Communications at the American Red Cross, said that the Red Cross is obligated to follow the guidelines set by the Food and Drug Administration, though she hopes that the deferral policy will eventually change. For now, Morrissey stresses that deferred people can still volunteer at the Red Cross and help spread awareness.
Jecoliah Ellis, Communications Program Manager at the American Red Cross Blood Services Region, said that one pint of blood could save up to three lives. With the wave of storms hitting the East Coast, such as the recent Hurricane Irene, donations accumulating up to about 145 pints of blood have been canceled, making the blood inventory fall below normal levels.
A 2010 report by the Williams Institute for Sexual Orientation Law and Public Policy at the University of California, Los Angeles, found that about 219,000 pints of blood – an increase of the 38,000 pints the Red Cross says that the U.S. needs every day, could be collected if the FDA lifted the ban on gay men and men who have had intercourse with men.
Liz Burns, Nurse Practitioner and Director at Mary Walker Health Center, thinks that it is more than just an issue for gay men or men who have had intercourse with men, she's worried that anyone can have HIV and not know that they are infected.
"I think the focus is to try to reach out to any individual," Burns said. "The goal is to get people diagnosed and to get people into treatment. Perhaps down the road the guidelines will change. But the focus is on the current research, and statistics don't lie."