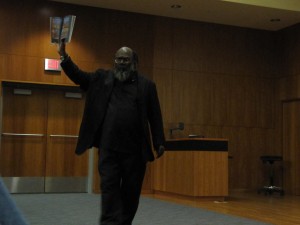 Writer, performer and artist Arthur Flowers also seems like something of a mystic. Combining all of those roles into one, his writing puts oral tradition onto the page, and reads as if an old African myth-making poet was there speaking to you. His novels are meant to be heard, which is why seeing this blues-shaman perform his work was such a treat.
Before starting to read, Flowers attached bells to his ankles. No one knew what to expect next. He produced several instruments from his bag, one of which was a kalimba, a type of "thumb piano" with many bar-like keys and a round, wooden body. He held it with both hands, tapping out gentle melodies on the keys, and occasionally striking the underside of the sound box with his fingers to produce a vibrato effect. With his instruments ready, he spoke at last, all the while playing a simple kalimba tune and stomping his feet to shake the bells in time. He read with poetic rhythm, and he would occasionally add a melodic line. The way he sang, played, improvised, and even danced was spellbinding, and imbued the narrative with emotional power. Flowers hopes to adapt his one-man show into a broadway-size act in the future.
He read an excerpt from "Another Good Loving Blues," a love story about a traveling bluesman and a hoodoo conjure woman. "The blues isn't about being saved," Flowers said. "It's about having the blues, trouble." Their relationship reflects the artistic, spiritual identity of Flowers. The author is himself a bluesman, and the blues are readily identifiable in his language, enhancing the lyricism of the writing. Flowers is also a follower of hoodoo, a tradition of folk-magic that incorporates the Bible. He was not raised hoodoo, even though some of his family practiced it, but discovered the faith when he was older. He identifies his music and religion as two sides of American afro-spiritualism, and he tries to convey the power of both of them by means of ancient, oral storytelling. To him, art is a form of magic. "Magic is about making what was not into what is," Flowers said. It is an act of creation where thoughts are made concrete. In his view, there is a harmonious overlap between musical performance and hoodoo spell-making.
The tradition gives his writing style two distinct features: a very active and charismatic narrator, and a lyrical feel. Flowers said that he has always written lyrically, but his narrative voice has evolved. His narration is unusual in literature, because of the way he personifies himself with "I", but is decidedly separate from the events of the story. Flowers does not try to be experimental but the fundamental unorthodoxy of his work limits its audience. "You want to make your song the best yours can be," Flowers said. "So you can appreciate others for theirs." Flowers confessed to sometimes feeling pressured to conventionalize, but wills himself to create with whatever inspiration comes to him, writing with the assumption that no one will ever see it. He said that being a writer is the best life he could have chosen, and that he enjoys continuing to define his literary voice.