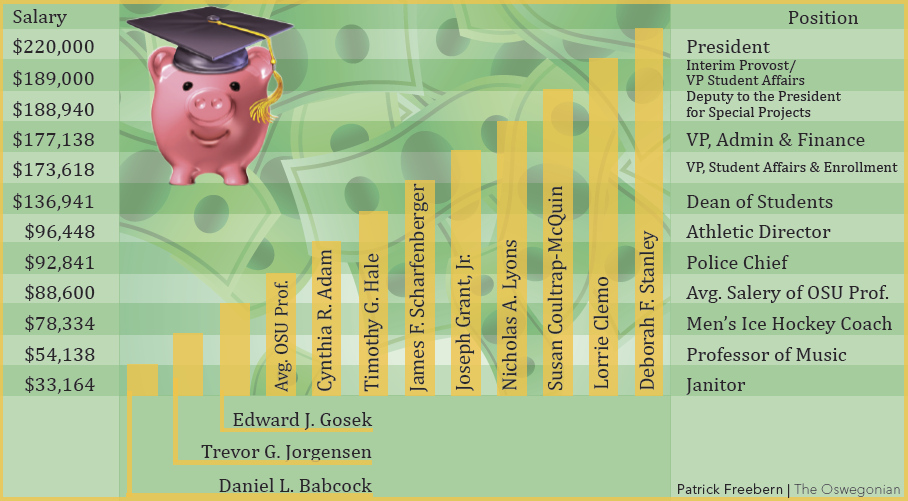 Investigate staff compensation for yourself with our salary database (PDF)

The economic downturns of 2008, declining tax revenue and the legislature's severe cuts to the SUNY's operating budget have focused a spotlight on salaries in SUNY schools.
Last year, Oswego State's operating budget totaled $162.7 million. That number includes everything from housing and dining to scholarships and research. However, a large portion goes toward salaries for thousands of faculty and staff- from President Deborah Stanley, the highest paid employee with a base salary of $220,000, to men's head ice hockey coach Ed Gosek, the highest paid coach with a salary of $78,334.
Salaries for college deans and administrators typically range from five figures to more than $100,000. There are about four dozen college employees who make $100,000 or more, though not all of them are administrators.
Five people earn more than $150,000. Four, including the president, are upper-echelon college officers. The fifth, Susan Coultrap-McQuin is a professor of English and women's studies. The English professors who earn more than $5,000 make an average of about $66,000 per year.
Coultrap-McQuin takes home $155,000, about $72,000 more than the next highest paid English faculty, Robert Moore, who is also the director of the honors program. Coultrap-McQuin served as provost for six years before joining the faculty in July 2010. Her salary was slashed nearly $40,000 when she left her administrative post.
"There's a stereotype in higher education that administrators are highly paid," Elizabeth Schmitt, an economics professor at Oswego State, said. "That notion of the highly paid administrator just doesn't fit. It's an incredibly demanding job."
Salaries of both professors and administrators, she said, are determined in part by demand. Schmitt said the reason a major league pitcher that throws close to 100 mph can earn $60 million is because there is great demand and a very limited supply of people who can perform the job.
Likewise, top professors and administrators in desirable fields can command a higher salary than they would otherwise.
"If you want top talent…you have to pay competitive prices," Schmitt said.
The same holds true for the president, Schmitt said. Oswego State gets President Deborah Stanley for a steal, she said, in large part because she has ties to the area. Typically attracting qualified candidates means offering large salaries.
Presidents are usually near the top of the salary list because the job tends to require many different skills. College presidents must be CEOs, lobbyists and public relations people rolled into one.
"That's a pretty skilled individual that wears all those hats…and to the highly skilled individual should go the compensation," Schmitt said.
Deans are also among the top earners- Dean of Liberal Arts and Sciences Rhonda Mandel earns $140,000, while Dean of Business Richard Skolnik makes $135,600. Dean of Communication, Media and the Arts Fritz Messere earns $132,000 and Interim Dean of Education Pam Michel makes $125,000.
Pay for faculty varies widely depending on many factors such as experience, area of study and whether or not they are full-time. Full-time Oswego State professors earn an average of $88,600, according to data compiled by The Chronicle of Higher Education. Associate professors earn $71,100, assistant professors earn $57,800 and instructors make $44,500.
Average salaries for full-time professors at Oswego State are lower than several similar SUNY schools. Full-time professors at SUNYIT earn an average of $106,600. SUNY Brockport averages $101,00; SUNY New Paltz averages $98,300; Buffalo State averages $92,000; SUNY Geneseo averages $89,300; and SUNY Fredonia averages $89,200.
Oswego State's average salary for full-time professors still ranks above SUNY Plattsburgh, SUNY Oneonta, SUNY Cortland, SUNY Canton, SUNY Potsdam, SUNY Cobleskill and Morrisville State College.
Supply and demand is what drives certain fields to pay more than others, a human resource professor, Steven Abraham said. An accounting professor typically earns more money than an English professor because there is a greater demand for people with accounting degrees.
"As a whole, you're going to see that professors…are paid less than their counterparts in private industry," Abraham said.
Although professors may be underpaid, Abraham said there is a tremendous reward package that comes with the job. Professors work 10 months a year and have relative freedom in their jobs. They also tend to have job satisfaction.
"You find very few professors that hate their jobs," Abraham said.
By contrast, administrators may earn more money, but work 12 months a year and are under greater restriction in their jobs, Schmitt said.
"Your first reaction is do they really deserve that much?" Schmitt said.
"Every position has a general going market rate…it's determined by the market," Abraham said.
There are many instances in which a highly skilled administrator can be essential to running an institution smoothly.
"A skilled registrar is worth his or her weight in gold," Schmitt said.
Other positions such as chief technology officer and director of institutional research can be crucial to a university, and difficult to retain qualified people, she said. Many of the people in those key jobs have vital experience and a skill set that makes them appealing to many high-paying private sector jobs. This leads many schools to pay certain administrators more money to keep them.
"You're shortchanging the skill set required for those jobs," Schmitt said. "If you want highly skilled people, you have to be willing to pay competitive market rates."