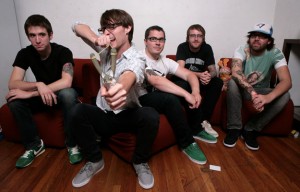 The new album by the Rochester, N.Y. natives Polar Bear Club, titled "Clash Battle Guilt Pride" is not an album to be taken lightly. Being the band's third full-length album, "Clash Battle Guilt Pride" shows major progression from their previous album, "Chasing Hamburg," as every track is worth listening to. The album flows perfectly throughout, beginning with the slow entrance of "Pawner," to the ending with "3-4 Tango." The album shows the musical progression and evolution through the years that makes Polar Bear Club a great band.
The single "Screams in Caves," is a perfect example of why Polar Bear Club has received its critical recognition, most noticeably because of the vocals of Jimmy Stadt. His delivery, along with Chris Browne and Nate Morris' guitar lines, create a feeling of unrest throughout that sounds and feels perfect.
Another great song from the album is "My Best Days." Starting out slow with Stadt's vocals over little instrumentation, the song speeds up with wonderful arpeggios by Browne and drum fills from former drummer Emmett Menke give the track more depth with the all ready deep lyrics.
"Clash Battle Guilt Pride" is an emotion-filled, goose-bump-inducing ride that is rarely seen in the music industry today. All the pieces of the band fit together perfectly to create an album that is worthy of praise from both fans and critics alike.
On Oct. 14, Polar Bear Club will be returning home and playing a record release show with the bands Fireworks, Balance and Composure, Such Gold and Summer People at the Lost Horizon in Syracuse (5863 Thompson Rd). Tickets are available at the Sound Garden on Armory Square in downtown Syracuse, or online at syracuseshows.com for $12 presale.