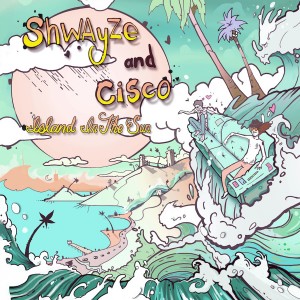 Fresh off a visit to Oswego State, Shwayze and vocalist/producer Cisco Adler come out with their first independent release, "Island in the Sun." The duo claims that this time around, their album has "no label, no pressure" –referring to the struggle Shwayze had with his last major label album "Let It Beat," which produced one mildly-popular single. With their new release, the duo recalls Shwayze's laid-back, self-titled debut that produced the radio hit "Corona and Lime." The album as a whole certainly retains that spirit, which is most evident with the opening track, appropriately named "Island in the Sun." It is a summer-themed love song where they compare their admiration for a girl to paradise. Although Shwayze himself is listed as a hip-hop act, he has alternative elements along with a cool, less gangster and luxurious style which made his debut a hit.
Much of "Island in the Sun" follows the same format as the debut album with Shwayze rhythmically rapping about love and partying over a California-like percussion and strings with Adler playing cool with his catchy choruses. Shwayze and Adler break away from the rest of the hip-hop pack, and are not afraid to show admiration for a love interest. Specifically on "Butterflies" where the two reminisce about a former fling, they still show they have feelings as Shwayze admits he "still talks about her every now and then." Despite being an independent album, this release could find its way through the radio waves as the song "Drunk Off Your Love" features Sky Blu, the emcee of LMFAO, who's smash hit single, "Party Rock," is all over the radio.
The duo also gets a visit from underground rapper Kendrick Lamar and female singer Sophie Stern, also natives of the West Coast, on the album's serious track "Over and Over" which compares life and love to a broken record. The album's overall theme is summed up on "Summertime Music" – whose subject is absolutely that. "Waste The Time Away" draws influence from Bruno Mars' acoustic guitar and Jamaican-influenced melody, a style that has been overused in mainstream music. "When We Get There" features bland vocals from Adler and female singer Nikko Gray as well as Shwayze recycling a couple of lines from Lil' Wayne and 50 Cent.
The album wraps up with Shwayze throwing out the usual hip-hop bravado with "Keys to My Heart," a track that breaks away from the laid-back love songs to a more serious-toned ode that features a sad, emotional acoustic guitar accompanied with a catchy bass line. "Island in the Sun" is laden with this theme of summer love and in some tracks it becomes a little repetitive. The positive thing is that the instrumentation and vibes cut loose from the sound of mainstream hip-hop, but still remain catchy. With the right marketing, this album could very well see the top of the charts.