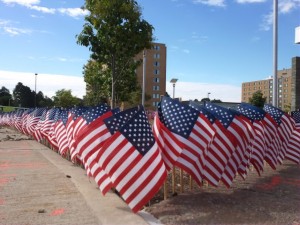 On Sunday, America remembered the horrible events that occurred on 9/11.
"As I watched the twin towers fall for the first time, I felt like I was losing something" freshman Lindsey Frazer said.
All around the world, people reflected and remembered the event in numerous ways. Oswego State held an hour-long commemorative walk, and a two-hour candlelight vigil. Students, faculty, and members of the community gathered at these events to honor the victims, including the 12 Oswego State alumni, who lost their lives.
"It's moving," freshman Veronica DeFazio said.
On Monday night, Zainab Al-Suwaji, executive director of the American Islamic Congress, came to Oswego State to talk about freedom of religion. Al-Suwaji commented on the effects of 9/11 on her religion.
"At first I was afraid about what the effects of 9/11 would have on people of my religion, instead of being discriminated against, I was embraced," Al-Suwaji said.
In the ten years since 9/11 many Americans have had mixed views on who is to blame and who is trustworthy. It has made people of various religions like Al-Suwaji scared of being stereotyped.
America has come a long way in the last 10 years and will continue to grow stronger and show the world it will always be able to overcome anything.
"I am most proud of the progress we have made," Frazer said. "America has worked hard to embrace everyone after 9/11."
A memorial and 9/11 museum has just been opened to the public at Ground Zero to honor the nearly 3,000 victims who died that day. The memorial consists of two pools with bronze frames with the names of all the victims engraved on them.
In addition to the memorial, nearly 3,500 workers have been working on the Freedom Tower that is scheduled to be complete in 2013. The mastermind behind this project is architect Michael Arad. The Freedom Tower is going to be the tallest building in the world, 1,776 feet once it is complete. Right now, the building has 80 floors complete, and workers have been completing one floor per week.