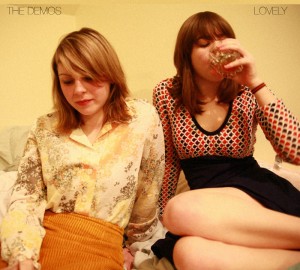 The Demos are a Rochester, N.Y. based indie rock group composed of two born and bred natives, Jason Milton and Callan Saunders. They released their debut album "Lovely" in May 2011. I had a chance to correspond with the Rochester rockers.
Q: Were Jason Milton and Callan Saunders both residents of Rochester? Or did you move here because of school or jobs?
A: We are both from Rochester. Born and raised here.
Q: How did Jason Milton and Callan Saunders meet? Were you childhood friends? Did you meet in college?
A: We met each other in high school when we ran cross country together.
Q: When you met, what music did you bond over? Did you learn any covers and perform at open mic nights?
A: We never performed at any open mic nights, but we had similar taste in music. We loved The Strokes, The Beach Boys, and The Beatles.  We never really felt the need to play covers. The originals were enough to work off of.
Q: What do you think is unique about being a band in Rochester, NY? What do you like about it? Is your song "My City" about Rochester?
A: Not many people outside of Rochester have really heard much music from here. Generally speaking people assume that we are close to New York City. "My City" is somewhat about Rochester, but the ideas in it are just nostalgic to any place you could have grown up.
Q: Why did you choose the name "The Demos"?
A: We had made a CD of a bunch of demos and the disc was labeled "The Demos." One of our friends asked us if that was our name… and we said yes.
Q: Who are the women on the cover of your album? Inspiration for some of the songs?
A: The lovely women on the cover of our album are Miss Caela Moore and Miss Alison Cowles. They are good lookin' girls with hearts of gold. Simply put, they are lovely.
Q: How did you get hooked up with Mikey Jukebox (Performing with him live, having him produce 'Lovely')?
A: Mikey was the drummer of Longwave and the front-man of The Mercies. Our similar music tastes attracted us to one another. We originally met Mikey when he asked us to do some backing vocals for his last record. We got along really well in the studio and it just made sense for us to ask him to produce the record. His contributions were pivotal in "Lovely" turning out the way it did.
Q: What was it like to shoot your video for "Nervous"?
A: Shooting the "Nervous" video was a lot of fun. We shot and edited the video ourselves and it was a great experience to be able to express our artistic vision in a medium other than recorded music. We have plans to make videos for other songs off the record in the near future.
Q: What's next for the Demos?
A: We plan on hitting the road in the fall to support "Lovely." Also, our follow-up is in the works.