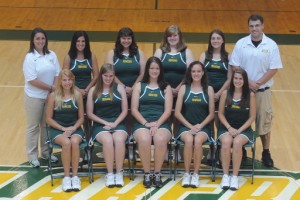 Last year, the Oswego State women's tennis team finished with a 2-8 overall record in the fall season after a 6-3 loss to Roberts Wesleyan. The Lakers won their two matches against Wells College and The Sage Colleges.
Head coach Erin Skaradek begins her fourth year with the team and this season she has a mixture of both returning players and newcomers. Returners include junior captain Kelly Corwin, sophomore Nicole Leader and senior Christine Ripple.
The four new members to the team are sophomore Emma Baker and freshmen Hannah Rawlings, Lauren Stall and Olivia Knierman. Senior Rachel Rigney and junior Wini Decker will serve as the No. 1 doubles team this season.
Skaradek believes that adding newcomers to the lineup will help the team develop.
"All four newcomers are very talented," Skaradek said. "They will compete with our returning players for spots in our starting lineup."
The Lakers started the 2011 season with a 9-0 loss at SUNY New Paltz on Saturday.
"Even though we did not leave with the victory, the team as whole felt pleased regarding our play, especially with our injury factor," Ripple said. "Our game play for this upcoming match is the same as any other match. Take it a point at a time and play to the best of our ability."
Skaradek has set several goals for the upcoming season. The team's main goal is to win at least half of their confer ence matches. In addition to team goals, Skaradek also hopes her players can improve individually.
"We strive for several players to set and reach their own personal goals reflective of their individual play on the tennis court," Skaradek said.
Although the Lakers have a tough schedule early in the season, the team is confident that the challenge of these games will make them stronger.
"I don't feel that our schedule is a challenge as long as we stay positive and continue to get better," Ripple said. "We have a lot of talent on our team and our coach was impressed with our overall ability coming into the season during our preseason."
Corwin believes that the team will improve whether despite the outcome of the season.
"As a team we learn from both wins and losses," Corwin said. "Losses can teach a player what they need to work on and what new strategies they could use to place the ball and make it harder for an opponent to return. Wins teach us what skills as a team and as an individual player what we have successfully accomplished already."
The Oswego State women's tennis team has their next match on Saturday at SUNY Brockport.